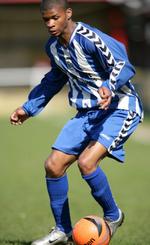 by Alex Hoad
Herne Bay boss Simon Halsey has issued a challenge to Byron Walker after the striker returned to the goal trail with the winner at Horsham on Saturday.
Walker (pictured) was linked with a move to League 1 side Oldham in the summer and had a short spell with Stalybridge Celtic in Blue Square North at the start of the season after scoring 38 league goals for Bay in the past two seasons.
However, he has failed to recapture that form since returning to Winch's Field in November and had not scored in the nine Ryman League, Division 1 South games since his return before poaching the only goal at Horsham.
Halsey said: "He's had chances like that in previous games and not taken them. He's gone through and thought about it too much. He was disappointed with himself.
"But this time he was played in and he was his old self, one touch and bang – it was all about instinct.
"Hopefully, that will be the start of something for him. I've set him, Tunji Agbaje and Jamie Turner a challenge – I want 21 league goals between them from now and the end of the season."
Do you think Bay's forward trio can rise to Halsey's challenge? Have your say below.