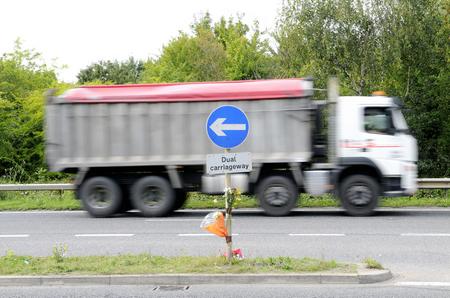 A Dutch lorry driver has been jailed for 18 months for causing the death of a motorcyclist.
Ewout Groenenberg can expect to be released after serving half the sentence.
Dr Mark Williams was killed when his motorcycle struck the side of his DAF truck as it made an illegal turn across a dual carriageway at the A228 Snodland bypass on August 26 last year.
A judge told the 41-year-old trucker: "A respected and much-loved man lost his life through your thoughtlessness."
Groenenberg, from Haringvliet, was last month cleared by a jury at Maidstone Crown Court of causing death by dangerous driving. He admitted the lesser charge of causing death by careless driving.
"a respected and much-loved man lost his life through your thoughtlessness" – judge charles byers
He had delivered a consignment of mushrooms to Tesco's in Strood and was having difficulty finding a second depot when he turned into the Ham Hill water treatment works.
The prosecution alleged he either failed to see, or ignored, a mandatory "turn left" sign when he attempted to make a right turn across the southbound carriageway, through a gap in the central reservation and join the northbound carriageway.
Groenenberg pulled directly across the motorcyclist's path as he exited the side road to rejoin the A228.
The 48-year-old victim's partner Jo Smith was on the pillion of the 750cc Moto Guzzi motorcycle and suffered serious injuries. She was airlifted to a London hospital.
Dr Williams, of Oak Road, Strood, died from his injuries at the scene. His partner Jo Smith, who was on the pillion, suffered serious injuries and was airlifted to a London hospital.
They had been heading for the New Forest for the annual Moto Guzzi Club meeting over the Bank Holiday weekend.
Groenenberg said in evidence he did not see the motorcycle but admitted the accident was his fault.
Judge Charles Byers (pictured below) said Dr Williams changed down to second gear and positioned himself believing Groenenberg was encroaching on the fast lane to turn left.
"Never in his wildest dreams would he have thought the defendant would pull straight across the carriageway," he said.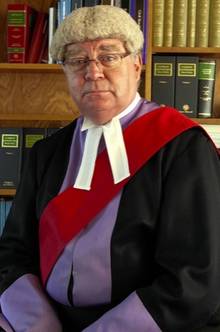 "You are a professional driver and you knew there was a place where you could turn around a little way down the road to the left - a roundabout you had previously seen.
"You being a professional driver, the public expect the highest standards. You have a bad record, not just in the sense of one driving conviction. You were previously convicted of other offences.
"I do not take them very heavily into account because you served your punishment and in the intervening time you have matured and done everything you can to put them behind you."
The judge said Groenenberg was frank at the scene of the tragedy and had shown great remorse.
"I have identified the aggravating features," he said. "One person lost his life and another was injured. You have a conviction for speeding. Thirdly, you are a professional driver.
"I cannot imagine a case that comes so close to dangerous driving. If convicted of dangerous driving, the sentence would have been substantially longer.
"There must be a custodial sentence, though the sentence I pass cannot put the clock back and restore this man to his family."
Groenenberg was banned from driving for three years, although it will not apply in Holland.