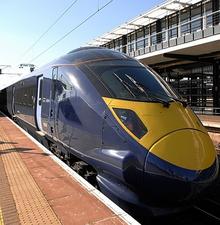 Today sees the start of a new high speed service from Maidstone to St Pancras International.
The trial follows changes to the North Kent line to improve the punctuality of existing services.
Trains will call at Strood, Gravesend, Stratford International and St Pancras International, with journey times of 47 minutes.
Charles Horton, managing director, said: "Today marks another positive step for services in Kent with the new high speed service from Maidstone.
"This will help provide passengers with an alternative way of getting directly to the heart of London.
"The changes are also allowing us to improve the reliability and punctuality of services along the North Kent and Sidcup lines into London by reducing the number of trains running through the Rochester area, which experience showed was vulnerable to congestion and delays."
Brian Sweetland, cabinet member for environment, highways and waste at Kent County Council said: "Kent County Council supports this new initiative by Southeastern.
"The new high speed service will provide rail passengers from Maidstone with a direct fast rail service to St Pancras."
The new service will see three departures from Maidstone West in the morning, at 06.56, 07.26 and 07.56.
The return journeys will leave St Pancras International at 17.14, 17.44 and 18.14.
There is also one service in the morning departing St Pancras International at 06.25 to Maidstone West.
In the evening there is one service departing at 19.13 from Maidstone West to St Pancras International.
Passengers will continue to be able to travel twice an hour from Maidstone West to St Pancras International in 65 minutes changing at Strood.
For more details on the new services please visit The Southeastern website.