It's a long way from Hollywood to Sandwich, but if rumours are to be believed, one of the world's leading actors flew from Tinsel Town to the Cinque Port to shoot scenes for a new film.
The internet was all of a-twitter with reports A-list heartthrob Brad Pitt chose the old Pfizer site, now named Discovery Park, as a location for his new epic, World War Z.
US showbiz sites reported Mr Pitt and his crew rolled up at the park on October 30 to reshoot scenes for the film, which is described as a "post-apocalyptic horror".
A Discovery Park spokesman reportedly confirmed the site had been privately hired, but couldn't release details of the nature of the booking.
Pitt's cast and crew were also said to be staying in Sandwich during filming, but nobody had told the town's hotel owners.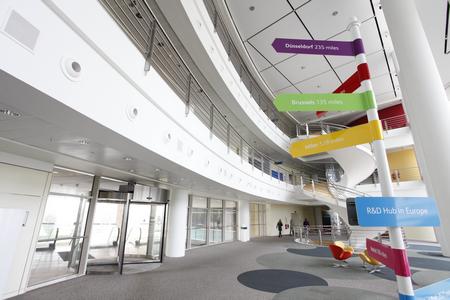 Tracy Marchant, who runs the five-star Molland Manor House in Ash, said if the actor was going to drop by, she wanted to be prepared.
"Brad Pitt's staying in Sandwich?
"I'd better get my hair done then," she said.
The Mayor of Sandwich, Cllr Jeremy Watts, was equally nonplussed about the supposed star in his midst.
He said: "It's news to me. I've not heard anything about it - not a word.
"I'm sometimes the last to hear anything, anyway."
In August last year, Tunbridge Wells was believed to have been earmarked as a location for the film, which is being made by Pitt's production company, Plan B Entertainment.
But a last-minute plug was pulled and a train was chartered to move the entire cast and crew to shoot in Glasgow.
According to internet movie site, www.imdb.com, World War Z scenes have also been shot in Cornwall, Hampshire and London.