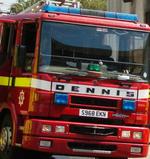 Around 20 firefighters have been tackling a blaze thought to have been started by a candle at a house in Dymchurch.
A woman in her 30s had to be treated for breathing in smoke after the fire started at the property in Dunstall Lane last night.
Crews from Kent Fire and Rescue Service were called to the scene at about 7.30pm.
Most of the property was damaged, but firefighters were able to stop the flames spreading to another home.