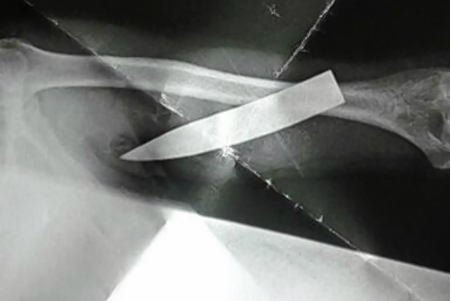 by Andy Gray
A former Gurkha soldier has told how he fought off a knife-wielding robber in Maidstone town centre – but ended up with the blade buried in his arm.
Taitex Phlamachha was oblivious to the six-inch blade inside his body as he endured a 15-minute struggle with his attacker.
The dad-of-two said: "I didn't realise the knife was in my arm.
"There was lots of blood and I was in pain but it was only when I got to hospital the blade was discovered inside me."Mr Phlamachha, a Gurkha with
"i didn't realise the knife was in my arm..." – taitex phlamachha
Maidstone's 36 Engineers for 13 years, was attacked as he walked with his wife Asha, 38, in Week Street on Sunday night.
The couple, who run Namaste Off Licence in Sandling, were on their way home at about 10pm having taken money from a cash machine.
As they stopped to look in the window of the Savers health and beauty shop opposite Fremlin Walk, the assailant struck.
Mr Phlamachha was pushed against a wall and allegedly told to "hand over the money" or he would be stabbed. A tussle ensued in which Mr Phlamachha said he fell to the ground and the attacker kneeled on his chest demanding his wallet.
"He tried to stab my stomach four or five times," he said.
While Mr Phlamachha was struggling, he managed to free his mobile phone from his pocket and throw it to his wife, who called police.
Mr Phlamachha - a karate and taekwondo expert - said he then kicked his attacker, who fell to the floor.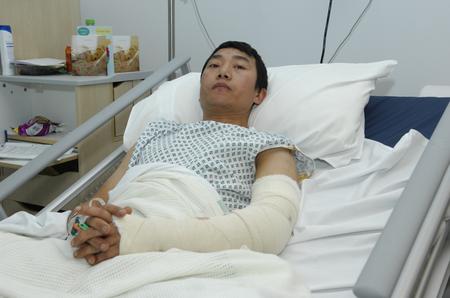 The thug then tried to flee, but Mr Phlamachha said he gave chase and threw two punches - sending the mugger sprawling.
He was taken to Maidstone Hospital before being transferred to The Tunbridge Wells Hospital at Pembury, where the blade was removed.
As well as suffering deep cuts to his upper arm, Mr Phlamachha suffered injuries to his hands, face and neck. He was due to be released from hospital yesterday.
Mr Phlamachha, who retired from the Gurkhas last year, said: "I'm proud to be a Gurkha and I'm a proud father.
"Nothing like this has ever happened to me before and I will do anything to protect myself and family."
Jamie Hall, 39, of Fairmeadow, in Maidstone, has been charged with attempted robbery, grievous bodily harm with intent, possession of an offensive weapon and common assault. He has been remanded in prison where he is due to appear at Maidstone Crown Court for his next hearing.