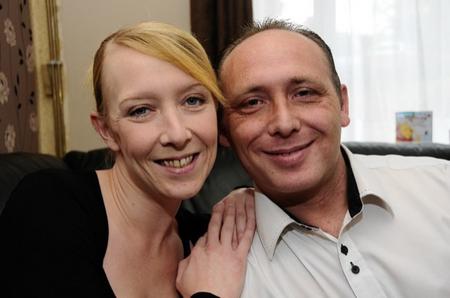 by Jamie Bullen

A woman adopted at birth has met her brother for the first time after 32 years - following a chance encounter on Facebook.
Mum-of-five Chloe Needham, from Canterbury, stumbled across Dave Harris after his wife advertised a puppy on the social networking site.
Chloe, the youngest of four children, was adopted at birth in 1980 and grew up in Herne Bay not knowing her siblings.
After years spent wondering about her biological family, she finally made contact with her sister Ellen in August 2001 and brother Danny three months later, but was frustrated in her attempts to find eldest brother Dave.
Speaking at the start of Adoption Week, Chloe, 32, said: "I got a tip off a while back that his name was Dave Harris and he lived in Maidstone with his wife Emily.
"I had been on Facebook for years looking to find my brother but when you type in Dave Harris there are so many names that come up I didn't know where to start.
"I knew his wife's name was Emily and that they were into dogs so when I came across this puppy for sale I messaged her and explained who I was.
"About a week later she responded and said she is married to Dave and did I want her number.
"I was running around my house screaming 'what do I do?' and my husband said saying hello would be a good start."
The siblings met for the first time at Chloe's house and talked for 14 hours as they shared stories of the previous three decades.
Chloe said: "When I knew I was going to meet him there was so much excitement and also nerves.
"I wondered if he looked like me or Danny and and I knew straight away when I saw him that he was my brother.
"i knew straight away when i saw him that he was my brother" – chloe needham
"It was such a shock for both of us and the hurt did come back - that feeling of why were we separated."
It also emerged the pair may have bumped into each other unknowingly in the past.
Chloe said: "It was quite amazing when we talked because Dave said he came into the pet shop Vanishing World in Herne Common 15 years ago when I used to work there. He asked if he could buy a crocodile.
"I can't remember it at all but I could well have served him.
"We also used to go banger racing in Coombe Valley in Dover. He was racing for a team called the Sperm Donors and I was in a team called The Management, so we could have raced one another as well."
Dave, 37, who lives in Marden and was brought up by his biological grandparents, said he didn't know Chloe even existed until his wife told him she had been in touch.
He said: "It has been amazing - just brilliant. I never knew my brother and sisters growing up and it is something I always wanted.
"I saw the other children with their siblings and I grew up alone, so to meet my little sister has been great. It has completed me."

Chloe Needham knows better than most what difference adoption can make to a person's life.
She was taken in by Herne Bay couple Patricia and Derek Chillingworth when she was just a baby and grew up in the town.
She said: "I hit the jackpot with them. I have had a fantastic upbringing and couldn't wish for better adopted parents.
"To me they are my mum and dad. They are brilliant parents and now brilliant grandparents. They just have such a lot of love to give.
"There is nothing wrong with adoption and there isn't anything to be ashamed of. There are some great parents out there."