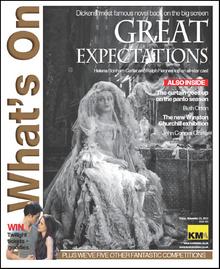 Read about Kent's part in the latest big screen version of Charles Dickens' classic Great Expectations, starring Helena Bonham Carter and Ralph Feinnes.
Win Twilight movie tickets and merchanise for the final movie, Breaking Dawn: Part II.
Performance poet John Cooper Clarke brings his satirical social observations to the county.
Plus, find out what made Winston Churchill the man he is at the first temporary exhibition at his former home, Chartwell.
What's On is available inside your paid-for KM Group newspapers every week, including Kent Messenger, Medway Messenger, Gravesend Messenger, Dartford Messenger, Sittingbourne Messenger, Sittingbourne News Extra, Kentish Express, Kentish Gazette, Faversham News, East Kent Mercury, Dover Mercury and Sheerness Times Guardian.
It's also available with digital editions of those titles.
If you enjoy What's On please become a fan on Facebook or follow on Twitter.
To contact editorial please email whatsoneditor@thekmgroup.co.uk or call 01622 717880.
To advertise please call 01622 794520.
To submit a free listing please click here.