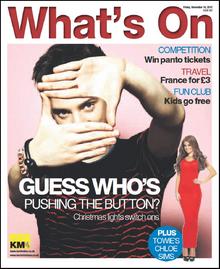 Teenage pop hero Conor Maynard is one of the big names turning on Christmas lights around the county this week.
Travel to France for just £3 with our P&O Ferries offer.
The pop art of Kent's Sir Peter Blake is the first to go on show at a new gallery bringing major artists to the county.
Plus, Peter Andre talks ahead of two Kent gigs.
What's On is available inside your paid-for KM Group newspapers every week, including Kent Messenger, Medway Messenger, Gravesend Messenger, Dartford Messenger, Sittingbourne Messenger, Sittingbourne News Extra, Kentish Express, Kentish Gazette, Faversham News, East Kent Mercury, Dover Mercury and Sheerness Times Guardian.
It's also available with digital editions of those titles.
If you enjoy What's On please become a fan on Facebook or follow on Twitter.
To contact editorial please email whatsoneditor@thekmgroup.co.uk or call 01622 717880.
To advertise please call 01622 794520.
To submit a free listing please click here.