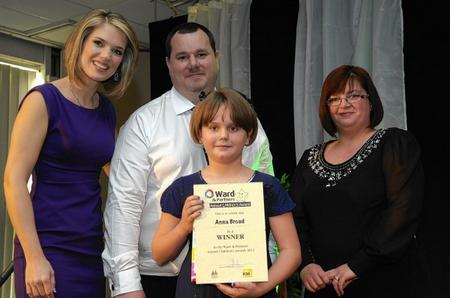 Inspirational youngsters were guests of honour at an emotional ceremony where they were praised for their courage and selflessness.
Eleven children from across Kent were crowned winners of the 10th annual Ward and Partners Children's Awards, which are supported by the KM Group and Kent Community Foundation.
The KM Group appealed through its titles for readers to nominate the county's bravest children, most dedicated fundraisers, exceptional carers and most courageous families.
Their stories captured the judges' hearts and brought tears to the eyes of friends and family who were in the audience at the Mercure Maidstone Great Danes Hotel last Friday.
The brave and inspiring category was the first award to be announced, which was split into three ages groups.
Prizes were awarded to Milly Johnson, aged five, from Twydall, Gillingham, and three-year-old Blue Tobin, of Kennington, Ashford, who were in the youngest division.
Winners of the group for six to 11 year olds were Miles Rogers, now 12, from Minster, Isle of Sheppey, Anna Broad, 10, from Ditton, and seven-year-old Maisy Keetch, who was nominated by loved ones in Sheerness. Cameron Edmonds from Gravesend, 12, topped the list for older children.
The young fundraiser of the year award was presented to 12-year-old Ella Eastwood from Whitstable.

Sporty nominees Nicholas Smelt, 16, from Ashford, and 11-year-old Max Smillie, from Sheerness, won the going for gold category in recognition of their determination to compete in physical activities despite their disabilities.
Chad Russell from Sittingbourne was named exceptional carer of the year and the courageous family title was awarded to the Dyers from Minister.
Cerebral Palsy Care won the title for outstanding charity.
Certificates and gifts were presented by Sky News presenter Charlotte Hawkins. It is the sixth year she has hosted the tearjerking ceremony, and she told the nominees and winners: "You are my inspiration and it has been truly humbling to hear all of your stories."
David Lench, managing director of Wards and Partner, said: "We received over 100 nominations, and this made it especially difficult this year for the judging panel. A lot of discussion took place for us to come up with today's winners and without any doubt at all, they are incredibly well deserving of their awards."
Guests at the animal-themed event were treated to a two-course meal and were kept entertained with a magician, who kept the children, and adults, guessing with his clever card tricks and balloon animals.
There was also a performance by Bloco Fogo, a samba band from Tunbridge Wells.