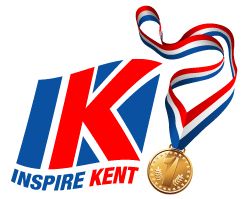 Lisa Dobriskey is many things. An international standard middle-distance runner being foremost among them.
She won a glorious gold in the 1,500m at the Commonwealth Games in Melbourne in 2006 and claimed a World Championship silver medal in Berlin in 2009.
The New Romney-raised star also finished an agonising fourth in the final of the 2008 Olympic Games in Beijing, missing out on a medal by less than a tenth of a second, aswell as reaching the Final at London 2012.
Lisa is also a superb sporting ambassador for her town, district and Kent as a whole and an inspiration to millions.
What she is not, however, is a shot putter.
As part of Inspire Kent – a project designed to help provide a legacy to the Games and Inspire a Generation across our county to get into sport – the KM Group's London 2012 correspondent ALEX HOAD took her out of her comfort zone as they both tried something new.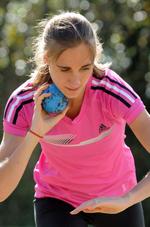 Believe it or not, trying the throwing events was pretty much Lisa's idea. I contacted a host of prominent athletes from the county with a view to setting up some Inspire Kent experiences and none have been as receptive to the idea of trying something new and out of their comfort zone as Lisa.
We arranged to meet on a sunny morning at the Julie Rose Stadium, home of Dobriskey's club Ashford AC, and scene of many of her junior triumphs.
Now Lisa might be a giant in terms of international running but physically she is slender and lean and looks like a strong gust of wind might blow her over. If you think of shot put you do not think of Lisa Dobriskey. Until now.
After some brief warm-ups from legendary Ashford AC coach Ted Hawkins, who has seen Lisa's journey from promising 11-year-old to fully-fledged star at close hand, we were introduced to the equipment trolley. And away we went.
SHOT PUT...
So. Shot put. Ted showed us the technique, which involved contorting into position with right hand underneath jaw, left arm bent up, as if checking a watch, and legs bent toward the back of the circle, with the intention of exploding backwards, toward the front of the circle and pushing the shot through with a high follow-through.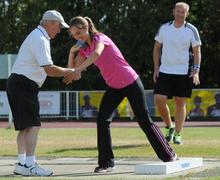 Like any sport, getting the technique right is half the battle, but while it took me half a dozen goes to turn these separate movements into one fluid motion, I was heartbroken to see that Lisa had it nailed within a minute.
Now her biceps might be the size of my wrists and her shot may have dribbled just a couple of metres out of the circle but, my word, she looked the part.
My erratic style, which loosely resembled the tips Ted had given me, enabled me to propel the shot to about the seven-metre mark but he put it into context by saying the shot I was using weighed the same as the one which the women's gold medallist had launched over 20m at London 2012. Hmmm.
HAMMER...
Onto the hammer. Now even I can see how important technique is with this one.
Basically you have to spin a shot put on a metal wire around your head and then let go at the precise time needed for it to land as far away from the circle as possible.
We spent a long while just standing there, swinging the hammer, getting used to it, trying to get the circles tighter and faster.
When I was eventually allowed to let fly, it felt fantastic and was only dulled slightly by the fact that it landed about 20m away – some 66m short of the world record.
But still, this was more like it for me. I had another go, a few metres further this time. Lisa was impressed, I could tell from the way she was looking surprised. I think she expected me to trip myself up with it.
A couple more goes, I spun faster, I rotated tighter, I added a grunt to my release which sounded professional, even if it didn't add the extra 30-40m I was looking for to challenge for Rio
Lisa once again perfected the technique annoyingly quickly. I was beginning to realise that she was just much better at taking instructions and putting them into practice than I was. I guess she has had plenty of practice, being a professional athlete and all.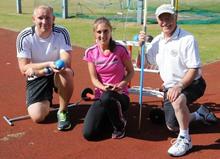 While her throws were travelling half the distance of mine, they looked the real deal, they went straight and true. If she put on about eight stone of muscle then she would be incredibly, good, I have no doubt.
DISCUS...
Discus was the one I was most looking forward to. How pure an Olympic sport it is. Launching a disc as far as you can, no technology, no super-duper clothing, nothing except a man in a field with a heavy disc and a dream.
I'll admit, I expected to be ok at this. I have always been great at frisbee and when I played football in goal, I could throw the ball well over the halfway line.
But I should have forseen, technique would once more come into play. This time I was permitted to use the same 2kg disc which Lawrence Okoye and the Olympians lobbed around in London, while Lisa settled for a 1.2kg junior version. Again, she only needed to be told once, before she was spinning through the circle and launching the disc up and out into the field.
My sheer brute strength and uncontrolled momentum across the circle allowed me to launch it a long way this time. I was well over halfway towards Okoye's British record of 68m, however, despite giving me about 10 stone and eight inches in height, Lisa again nailed the technique and was flinging her lighter disc out beyond 20m.
Alex Hoad and Lisa Dobriskey try the throwing events as part of Inspire Kent, coached by Ashford ACs Ted Hawkins

Lisa Dobriskey tries shot put as part of Inspire Kent - coached by Ashford ACs Ted Hawkins

Lisa Dobriskey tries the shot put as part of Inspire Kent

Lisa Dobriskey tries the shot put as part of Inspire Kent

Lisa Dobriskey taking part in the shot put with Alex Hoad looking on

Coach Ted Hawkins gives Alex Hoad shot put guidance

Alex Hoad tries the shot put with Lisa Dobriskey looking on
Inspire Kent
JAVELIN...
There was still the javelin, made glamorous by Kent's own Steve Backley, for us to tackle.
Let me tell you, he made it look far easier than it is. That's my first observation. The pointed pole might be light and aerodynamic but the grip and the shape in which you need your shoulder to bend, is alien to me.
Ted seemed perplexed as he tried to physically contort my shoulder into the shape which it should go, while I giggled like a ticklish schoolgirl as I insisted I just didn't bend that way.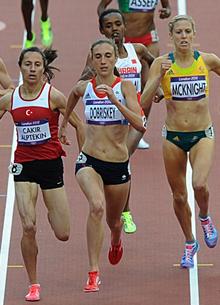 Lisa eventually came to the conclusion that my lifelong routine of sitting at a computer for nine hours a day has led to a rounding of my shoulders, a revelation which scared me more than the hammer had.
We quickly abandoned the javelin, though Lisa once again showed flashes of picking up the complex technique required to launch these missiles 60-70-80metres. Unfathomable.
THE VERDICT...
LISA DOBRISKEY said: "It was really fun, I really, really enjoyed it.
"I thought I picked up some of the techniques quite well but I just didn't have the power or the strength to throw very far.
"I think if it was done on technically looking good, if there were stylistic points, I'd have been alright.
"Apparently, it was my best but I don't think I'm going to have a great future in discus. I don't think I'll give up running just yet."
ALEX HOAD said: "I really enjoyed my morning and trying all of the new sports.
"I have to say, the hammer and the discus were even more fun than I had expected but I have a lot to learn in terms of techniques.
"The technical side of the shot and javelin, in particular, were complex but I am sure with a bit of dedicated training, the improvements would come quickly.
"I was secretly hoping I might be a natural at one of the throws, given my size, but unfortunately this morning has probably just ended any 0.1% hope of being able to compete at Rio 2016."
INSPIRED TO TRY THROWING EVENTS? CONTACT YOUR LOCAL CLUB BELOW
ASHFORD AC
David Fox - famfox3@yahoo.co.uk www.ashfordac.org.uk
01233 613131
DARTFORD HARRIERS AC
Anne Goad - dartfordharriersac@gmail.com
www.dartfordharriersac.co.uk
07815 557839
INVICTA EAST KENT AC
Michael Gallyer-Barnett - clubsecretary@iekac.org.uk
www.invictaeastkentac.org.uk
MEDWAY & MAIDSTONE AC
Linda Neeves - mandmac.org@gmail.com
www.mandmac.org
MEDWAY PARK PHOENIX
David Walker- info@medwayparkphoenix.com
www.medwayparkphoenix.com
07554 377908
PADDOCK WOOD AC
Richard Elliott - paddockwood@btinternet.com
www.paddockwoodac.co.uk
SWALE COMBINED AC
Richard Scoones - scoones123@hotmail.com
www.swalecombinedac.wordpress.com 07960 973496
THANET AC
Linda Hardy - linda@thanetac.co.uk
www.thanetac.co.uk
TONBRIDGE AC
Ann Czarnowski - ann@tonbridgeac.co.uk
www.tonbridgeac.co.uk
TUNBRIDGE WELLS AC
Stuart Smith - info@tunbridgewellsac.co.uk
www.tunbridgewellsac.co.uk
07760 406513