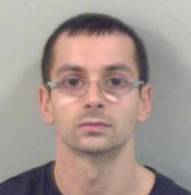 A thug who left a police officer unconscious in the road after driving at him and carrying him on the bonnet of his car for about 200 metres has been jailed for seven years.
John Fahri took the drastic action after Sgt Ross Shearer and PC Trevor Horner tried to question him about not paying at Best Kebab in London Road, Southborough.
Keith Yardy, prosecuting, said the officers were in full uniform on December 9 last year and it was dark.
Suddenly, Fahri, 30, started the engine of his Vauxhall Astra and surged forward.
"Sergeant Shearer had to jump on the bonnet," Mr Yardy told Maidstone Crown Court on Friday. "He was shouting to the driver to stop.
"PC Horner was close and was also shouting at the driver to stop. He was hitting the side of the windscreen."
Fahri drove out of Springfield Road towards Tonbridge. PC Horner gave chase on foot.
Mr Yardy said the car sped up the A26. About 200 metres down the road, PC Horner found Sgt Shearer lying on the pavement. He had come off the bonnet and been hit by another car.
"He was drifting in and out of consciousness and was shaking," said the prosecutor. "An ambulance arrived and he was taken to Pembury Hospital."
A picture of Fahri was put on Crimewatch and a Metropolitan police officer identified him. He was not arrested until January 3.
Mr Yardy said Sgt Shearer, who has a young family, graphically described the profound effect the incident had on him. He had still not returned to work.
No bones were broken but he suffered severe muscular injuries and was in constant pain.
Fahri, of Janny's Close, Aylsham, was recalled to prison to for being in breach of his licence for a previous offence.
He admitted causing grievous bodily harm with intent, dangerous driving and fraud by using a stolen credit card to get the windscreen repaired.
Slightly built Fahri, whose partner is expecting their first baby, was said to have been the victim of bullying throughout his life and had previously been kidnapped for two days in an attempt to extort money from him.
He claimed he panicked when the two officers approached his car. The windscreen was cracked when it was struck.
Judge Charles Macdonald QC sentenced Fahri to six years four months for causing grievous bodily harm with intent, eight months consecutive for fraud and eight months concurrent for dangerous driving.
He was banned from driving for 18 months.
Detective Sergeant Karen Festing, who led the investigation, said: "I would like to thank all the members of the public who called us with information, and the media for their help in raising public awareness to the incident as we sought to trace the suspect.
"A man who showed a dangerous lack of regard for human life has been sent to prison for a considerable amount of time."
The officer was not seriously injured and hopes to return to duty soon.