Fools are everywhere and Leeds Castle wants your help in finding the very best - they'll even pay the 'idiot' £8.75 an hour.
Next week candidates will be interviewed for the role of castle jester, but only "happy candidates" have been encouraged to apply.
Being a jester was quite precarious in times past - getting it wrong often invoked the King or Queen's displeasure which sometimes led to the Tower and even execution.
But Leeds Castle is promising a much happier and stable climate, its advertisement declaring: "We want to find a happy, cheerful, enthusiastic, entertaining jester who will be paid to lark about, to juggle and turn cartwheels and tell jokes, teach basic circus skills and perform tricks.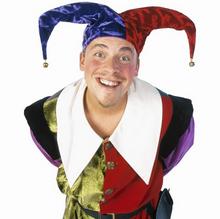 "An interest in history and the ability to speak a foreign language would be welcome. Costumes would be provided but candidates are expected to have their own equipment for entertaining crowds, corporate and wedding guests."
Next week's interviews will run from February 18-22 and will take the form of short-listed candidates actually performing before castle visitors who will vote for the ones they like best.
The overall winner will then start work in time for the Easter holidays and right through the Summer. Plenty of overtime is envisaged, dependant on customer demand.
As William Shakespeare wrote you have to be "wise enough to play the fool."
Nobody would want to catch Henry VIII in a bad mood at the former Royal Castle and jesters often walked a tightrope.
Even Henry's sober chief minister, Thomas Cromwell, appreciated the usefulness of this clever fool and manoeuvred him skillfully to deliver bad news to the King with a joke; or draw Henry's attention to extravagance and waste within the royal household.
Just as at Leeds Castle, jesters were regarded as pets or mascots, serving not simply to amuse, but also to criticise their master or mistress and guests. It is even said that Queen Elizabeth I rebuked one of her fools for being insufficiently severe with her.
Do you think you have what it takes to be a fool? Add your best CLEAN jokes in the comments section below.