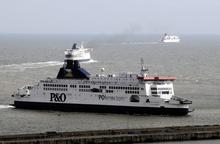 by Graham Tutthill
Up to 70 jobs could go at P&O Ferries, the company announced today. And there is a warning that pensions could also be affected.
The move follows what it describes as a major cost-saving initiative, focusing mainly on its head office at Dover where 475 people are currently employed.
Chief Executive Helen Deeble said the company had undertaken a wide-ranging review of its organisational structures and all of its spending in order to identify savings which will enable it to better compete with lower cost rivals "in a highly competitive market".
The resulting proposals, which are being put to staff and their representatives today, could potentially result in the loss of up to 70 jobs, mainly in the company's central shore-based support functions including IT, finance and call centre.
The company says it has also made its employees aware that it is reviewing the future affordability of its final salary pension scheme arrangements, which will be the subject of a further announcement in the next few weeks.
Consultations on the job cuts will start next week.