One of Canterbury's top judges toasted his 70th birthday... and then said goodbye to the bench.
Michael O'Sullivan – who was called to the bar in 1970 – has retired after nine years as a full-time judge.
The rugby-loving lawyer (pictured right) – who is president of his local Folkestone Rugby Club – praised staff at Canterbury Crown Court for their support.
And the father-of-three revealed that one of his treasured memories he will take away with him...a copy of a front page of the Kentish Gazette!
That was a story about a sex pervert who dressed up as a woman to get close to innocent victims.
The headline read: "Judge Tells Pervert He May Dress As A Woman!"
The judge – who began working life putting up street posters, before moving on to work in a bank and for British Leyland – was praised by senior Judge Adele Williams for his "charm and terrific sense of humour.
"He has always been an avuncular but firm judge. He is a warm, generous, funny and captivating companion."
But the Welsh-born Judge Williams joked: "When I first met Michael, Wales were Triple Crown winners. I now have to hold my head in shame!
"Michael has played rugby, coached rugby, refereed rugby and followed the game with a passion."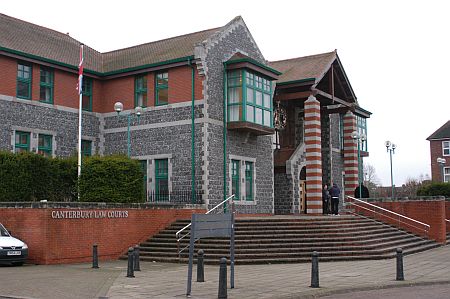 She also remembered the barrister arriving once with the battered contents of his wig which had been ruined after he tried to clean it in a washing machine... before it was then demolished by his dog!"
Judge Williams quipped that he became known for being "accident prone" resulting in a first aid kit being placed alongside his law books on the bench.
Close friend, barrister Ian Foinette, also spoke of visits to watch rugby in Ireland – when the English born judge managed to shout for both sides!
He added: "First aid, accident, Michael O'Sullivan and disaster are never far apart.
"He was once in Ireland with another judge and they got themselves involved in an affray along the banks of a Dublin canal... when they were attacked by flock of furious Canada geese!"
Mr Foinette added: "He was a great man at the Bar, a great supporter of the Bar and a loyal friend who will always be remembered for his laughter. " he added.
Judge O'Sullivan's wife, Collette and members of his family were invited to the farewell bash at the court, together with Kent's High Sheriff Michael Bax.