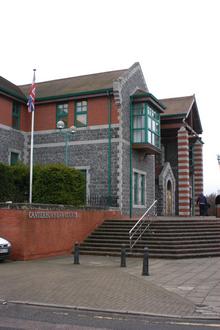 by Paul Hooper
A coach driver who disappeared in the middle of his £3million drugs smuggling case is still on the run... because no one has signed his arrest warrant.
Three months after Mimoun Bounaoura was convicted in his absence of illegally importing nearly 59 kilos of heroin, the 28-year-old Dutch national has not been caught.
Now a judge at Canterbury Crown Court has heard one of the reasons could be his European arrest warrant has yet to be sent to Dutch police.
Stephen Requena, prosecuting, said lawyers were waiting until he was sentenced before issuing the order to arrest the Dutch national.
But Judge Michael O'Sullivan said: "It is ridiculous. It is thoroughly unsatisfactory and I cannot understand the thinking behind it (the delay)."
Bounaoura was found guilty by a jury in August of illegally importing heroin in a coach he was driving in August 2011.
He was stopped at Coquelles, near Calais, driving into the UK – and customs officials discovered heroin stashed in a black suitcase with a street value of more than £3million.
Bounaoura breached his bail in August this year as his trial neared its conclusion and was convicted of drug smuggling in his absence.
The prosecutor said "unfortunately" a search for him "has not borne fruit" and there was "a European arrest warrant application in progress".
But Judge O'Sullivan said: "Why on earth has the warrant not been issued? It's ridiculous. Tell the Crown Prosecution Service that it has wasted three months by not getting on with the issuing the warrant.
"Had it been done it maybe he would have been found by those charged with arresting him in Rotterdam or elsewhere in Holland and he could be here for his sentence."
Mr Requena said after the coach driver absconded, his details were sent to the ports although "there was cause to believe he was still in the UK".
The judge ruled the warrant be issued "if not today then certainly by the end of the week".
Sentence was adjourned again until December.