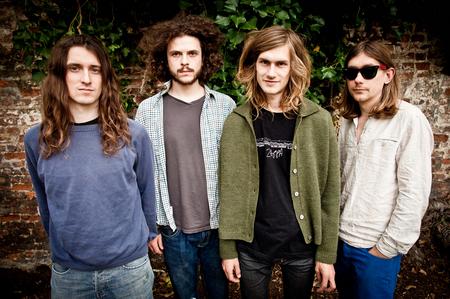 As they set out to tour their forthcoming album, Syd Arthur explain why it has taken them so long to go from the underground scene to making a record. Chris Price reports.
Ask cult Kent band Syd Arthur a question and the response is invariably a chilled out "it just happened".
The name for their forthcoming debut album, On An On, "kind of happened" and they talk about how creatively "you cannot force it" when making a record.
The eclectic band's name is a pun on Hermann Hesse's novel Siddhartha, a book they all happened to read one summer. Even the way the foursome came together was "organic". Brothers Liam and Joel Magill met Fred Rother while pupils at St Edmund's School in Canterbury, before Raven Bush – nephew of singer Kate Bush – joined the school in sixth form and then the trio's jamming sessions.
"We do work hard on the compositions and the sound but in terms of the creative element we have just found over the years that you cannot force it," said bassist Joel, 26.
"You just have to relax, be in a good place and let it happen. We have had a very laidback approach."
Certainly at first the running of these local legends appears as chilled as the folky, funk-fuelled, psychedelic rock they produce. Yet look a little closer and there is much more thinking behind every decision than perhaps even the band realise.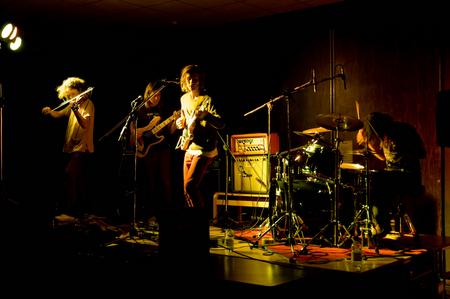 They keep as much of the day-to-day running of the group in house. They will release On An On on their own label, Dawn Chorus Recording Company and recorded all their material in their own studio in south east London. Only in March last year did they release their first material, the Moving World EP, despite being a group since 2006. They describe their forthcoming record as a "culmination of everything".
Indeed those luscious locks and Jethro Tull-like outfits suit the "things have to happen naturally" media line but a little probing unmasks the plan behind the long wait for their first recorded material.
"We just felt we didn't ever reach a point when we made a comprehensive statement about what we wanted to say," said Joel. "We continued to play live and build our skills as songwriters. We built a fanbase and set up our recording studio and through that process we reached a point where we can do this on our own terms.
"In the past, an album came out and if it wasn't that successful it wasn't re-pressed and it disappeared. Now once you release it, that's it and it is out there for good. We thought let's make sure we don't put out a load of stuff which in future years we could regret.
"Essentially we just figured out how to do it ourselves which is why it has taken longer than it does for other acts who haven't done it like us."
Making music connections
Syd Arthur's music is often compared to the output of the avant-garde psychedelic rock scene in Canterbury of the 1960s and 1970s, a period they admit to having a "funny" relationship with.
Bass player Joel Magill said: "We became aware of it growing up, aged about 17 to 19 and we did feel a connection with it. We are fans of that kind of music. We love it and it definitely influenced us.
"But although we listened to a lot of that stuff we don't sound too much like it. You can hear hints but we never consciously wanted to sound like that.
"We are eclectic in every aspect and that is what we have most in common with the Canterbury sound."
Of course, the fact the Canterbury scene couldn't be nailed down was as much its greatest strength as why it never commercially took off. "The constant pigeonholing of music is frustrating because it is so broad anyway," said Joel. "We like listening to rock and funk and that has filtered through to our songs in a natural, organic way so it is frustrating being asked what genre we belong to."
Syd Arthur bring their On An On tour to the Farmhouse, Canterbury, on Friday, April 27. Tickets £5. Call 01227 456118.
They perform at Earls for the Maidstone Fringe Festival on Thursday, May 3. Admission free. Call 01622 751286.
They play at the Barge, Gillingham, on Wednesday, May 9. Admission free. Call 01634 850485.
They finish the tour at the St Mary's Arts Centre, Sandwich, on Saturday, May 19. Ticket details on www.stmarysartscentre.org.uk.
They have also been announced for Lounge On The Farm at Merton Farm, Canterbury.
On An On is due out in early July.