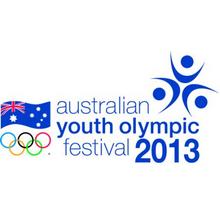 by Alex Hoad
@AlexHoadKOL
Kent athletes produced a string of fine performances to secure a host of medals at the Australian Youth Olympic Festival in Sydey, which closed on Sunday.
The county was represented by seven youngsters, with a further two more as reserves, and collected 14 medals, a large proportion of Team GB's total of 66.
The competition, which attracted more than 1,700 athletes from around the globe, is seen as a stepping-stone towards future Olympic Games.
Maidstone gymnast James Hall led the way with a superb individual haul of two golds, a silver and a bronze.
The Pegasus GC star claimed joint gold on the floor, silver in the pommel horse and bronze in the vault, aswell as the team artistic gold along with fellow Maidstone and Pegasus star Courtney Tulloch.
Tulloch also won gold in the rings to finish with two medals.
Deal rower Luke Moon won three medals, silver in the single and quad sculls and bronze in the men's eight, just being edged out of another silver by New Zealand in a photo finish.
Pembury's Tim Grant, who rows for Maidstone, missed out on two silvers in photos, having to settle for bronze along with Moon in the eight and taking third behind Australia in the men's four.
Canterbury Hockey Club aces Ross Gilham-Jones and Grace Balsdon both return with medals.
Hythe's Gilham-Jones scored five goals in four games and helped inspire GB to come from 3-0 down to force extra-time in the gold medal match against the hosts, only for the Australians to snatch a golden goal winner to claim gold and leave GB with silver.
Balsdon and the GB girls were on the right end of a sudden-death winner as they overcame USA 2-1 in extra time of their bronze medal match.
Gravesend-born triathlete Sophie Coldwell claimed a bronze as a member of the GB relay team in addition to finishing 8th in the individual event.
Canterbury hockey player Diccon Stubbings and Tunbridge Wells rower Georgia Francis were reserves for the event.