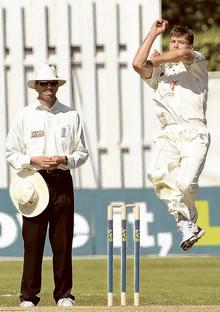 by Andrew Gidley
Simon Cook has insisted he wants to carry on playing county cricket, despite being set to leave Kent at the end of the summer.
Cook's seven years at the St Lawrence ground will come to an end after the county withdrew a potential offer for next season.
And while Cook (pictured) is keen to pursue a career in coaching, he stated that he still has designs on extending his playing days.
He said: "I haven't ruled out playing for another county. I haven't spoken to anyone but I am open to offers."
The 35-year-old medium pacer (pictured) had hoped to finish his playing career with Kent but no offer was on the table after an initial idea about him taking over as 2nd XI captain wasn't pursued.
"It was made for me," said Cook. "I was told there was no playing contract available in its existing terms.
"The club then spoke to me about a role helping to mentor the youngsters but came back a few days later saying they didn't want to go down that route. It was definitely not in my plans to leave."
The former Middlesex man, who joined Kent in 2005, has taken 174 wickets in 75 first-class games, including a career-best 6-35 against Sussex two years later. He scored 1,230 runs in 99 first-class innings, with a top score of 71 against Yorkshire at Headingley in 2006.
Cook has spent the last two-and-a-half years completing his Level 4 coaching award.
"I have spoken to the ICC about working with some of the associate nations," he added.
"There are many other areas to explore but with only 18 first- class counties and only a certain amount of jobs available, you have to be in the right place at the right time."
Do you think Cook was worth a new contract? Have your say below.