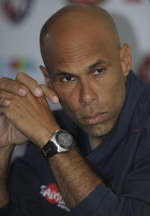 by Andrew Gidley
Rob Key will still have an important role to play at Kent next season despite no longer being captain, according to head coach Jimmy Adams.
Key (pictured below) was replaced by James Tredwell last month after seven years in charge, including Adams' first with the county last season.
Adams (pictured right) said: "I must thank Rob for the part he played in my first season with the club.
"He was a huge factor in making my introduction into county cricket a lot easier.
"I have a lot of respect for him, as a player, captain and person and he still has a massive part to play in Kent cricket.
"He is one of the strong personalities in the squad and I still see him being a de facto leader, if not captain in name."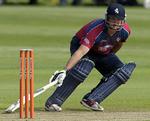 Adams said that new skipper Tredwell had a lot to offer Kent going forward.
He said: "James is a young man with a long history in Kent cricket and an international player with loads of experience."
Adams believes Tredwell's passage to India reflects how highly he is thought off by England management.
The 30-year-old was called-up to act as cover for the Test squad, hours after being named in the t20 and one-day squads.
Adams said: "The fact that James was called-up to join the tour sends a strong message as to where he sits in the selectors' minds. If he does get a chance, I am sure he will take it."
Do you expect Key's contribution with the bat to improve after stepping-down as Kent captain. Have your say below.