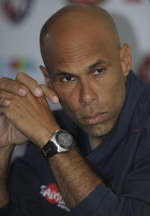 by Alex Hoad
Kent coach Jimmy Adams claims it is a good thing that the club feels a 'lingering disappointment' after finishing the season empty-handed.
In his first season at the helm, Adams, 44, saw Kent narrowly miss out on the semi-finals of the CB40 and T20 competitions while their battle for promotion in LV= County Championship, Division 2 went down to the final game before they slipped out of the race.
Adams admitted: "I am fairly satisfied. We have experienced a level of growth this year.
"However, there is a disappointment that we didn't get a little further in at least one of the three competitions."
He added: "So I am happy but at the same time a little disappointed. The fact that there is a level of dissatisfaction is a good thing. It means there is a hunger and motivation to improve next year."
Adams said the end of the season was "a time for a period of reflection," adding: "It's the time for concentrating on gathering information from players, support staff, admin, for looking at stats and trends and the possibilities they present for the future.
"We have been busy playing for the past five-and-a-half-months and it has not afforded us much time to reflect."
The former West Indies skipper added: "I have had a rewarding, satisfying and challenging first season. It has been everything I could have hoped it would be and more.
"It has been good fun and I have enjoyed the challenge.
"We are consistently looking at the future – next year and beyond. We have laid foundations which we can realistically build on. The signs are good."
Do you think Adams has done a good job in his first year at the helm? Have your say below.