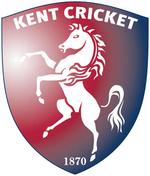 Kent County Cricket club have unveiled a new-look logo which they say is 'honouring the past whilst focusing on the future.'
The Invicta horse is featured prominently and the new shield is designed in the club's traditional colours of maroon and blue. The Kent year were formed - 1870 - has been added.
The logo, designed by Kent's new commercial partner Deeson Group, will be used on playing and replica kit, the club's website, stationery and advertising.
Chief executive Jamie Clifford said: "The design of the new club logo coincides with the redevelopment of the St Lawrence Ground and heralds the start of a new era for the club.
"It rightly returns the Invicta horse to pride of place at the centre of a shield whilst providing a fresh new contemporary look. I hope that it will soon become widely recognised as standing for all that is good about Kent County Cricket Club – traditional, forward looking and welcoming."
But some members and supporters have given the badge and branding as 'Kent Cricket' the thumbs down, with one member Nigel Williamson describing the logo as "banal and meaningless."
He has already tabled a motion rejecting the rebranding, to be discussed at the annual meeting next March, and said " We have been Kent County Cricket Club for 140 years, and I'm confident a majority of members will reject this crass and pointless attempt at a trendy rebranding."
Ironically, the change has followed several surveys and focus groups deemed that Kent County Cricket Club was a place for "Members Only" which the county feel is "a misconception which couldn't be further from the truth and aims."
What do you think of Kent's new-look logo? Leave your comments below.