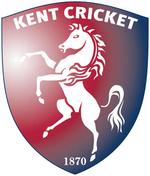 James Tredwell will lead out Kent for the first time in the LV= County Championship against Leicestershire at Grace Road on Wednesday, April 17.
The 2013 fixtures, published on Monday, have given Kent back-to-back away games in Division 2, with a trip to Old Trafford to face Lancashire, the following week.
Kent begin the season with a three-day friendly against Cardiff MCCU at Canterbury on Wednesday, April 10. Northamptonshire are the first four-day visitors to Canterbury on Wednesday, May 1.
The New Zealand tourists are due to visit St Lawrence in a floodlit T20 match on Saturday, June 22, subject to the Kiwis not being involved in the ICC Champions Trophy final.
The Canterbury Festival, which includes four-day and one-day games against Gloucestershire and Nottinghamshire has been put back to late August, because of the Champions Trophy.
Tunbridge Wells Festival, starting on Monday, May 27, will host two CB40 games against Netherlands and Northants, as well as as Leicestershire in the County Championship.
Possible building work at Beckenham means a decision still has to be made about staging the Friends Life t20 game there against Surrey, scheduled for Sunday, June 30.
KENT FIXTURES 2013
April
Wed 10 (3 days) 11am, Cardiff MCCU, Canterbury, UNI
Wed 17 (4 days) 11am, Leicestershire, Grace Road, LV=CC2
Wed 24 (4 days) 11am, Lancashire, Old Trafford, LV=CC2
May
Wed 1 (4 days) 11am, Northamptonshire, Canterbury, LV=CC2
Mon 6 (1 day) 1.45pm, Warwickshire, Edgbaston, CB40
Wed 8 (1 day) 4.40pm, Nottinghamshire, Trent Bridge, CB40 (F)
Fri 10 (1 day) 1.45pm, Netherlands, TBC CB40
Wed 15 (1 day) 4.40pm, Worcestershire, Canterbury, CB40 (F)
Fri 17 (4 days) 11am, Worcestershire, Canterbury, LV=CC2
Wed 22 (4 days) 11am, Essex, Chelmsford, LV=CC2
Sun 26 (1 day) 1.45pm, Sussex, Horsham, CB40
Mon 27 (1 day) 1.45pm, Netherlands, Tunbridge Wells, CB40
Wed 29 (4 days) 11am, Leicestershire, Tunbridge Wells, LV=CC2
June
Sun 2 (1 day) 1.45pm Northamptonshire Tunbrige Wells CB40
Wed 5 (4 days) 11am Hampshire Ageas Bowl LV=CC2
Wed 12 (4 days) 11am Glamorgan Canterbury LV=CC2
Wed 19 (1 day) 4.40pm Sussex Canterbury CB40 (F)
Sat 22* (1 day) 7pm New Zealand Canterbury TOM t20 (F)
Fri 28 (1 day) 7pm Middlesex Canterbury FLt20 (F)
Sun 30 (1 day) 3pm Surrey TBC FLt20
July
Fri 5 (1 day) 7pm, Essex, Canterbury, FLt20 (F)
Sun 7 (1 day) 3pm, Middlesex, TBC FLt20
Mon 8 (1 day) 7pm, Essex, Chelmsford, FLt20 (F)
Wed 10 (4 days) 11am, Gloucestershire, Cheltenham, LV=CC2
Mon 15 (4 days) 11am, Hampshire, Canterbury, LV=CC2
Sun 21 (1 day) 3pm, Hampshire, Ageas Bowl, FLt20
Wed 24 (1 day) 7pm, Sussex, Canterbury, FLt20 (F)
Fri 26 (1 day) 7pm, Surrey, Kia Oval, FLt20 (F)
Mon 29 (1 day) 7pm, Hampshire, Canterbury, FLt20 (F)
Wed 31 (1 day) 7pm, Sussex, Hove, FLt20 (F)
August
Fri 2 (4 days) 11am, Worcestershire, New Road, LV=CC2
6/7/8 (1 day), Quarter Finals, FLt20
Sun 11 (1 day) 1.45pm, Worcestershire, New Road, CB40
Tue 13 (1 day) 4.40pm, Northamptonshire, Northampton, CB40 (F)
Thur 15 (1 day) 4.40pm, Warwickshire, Canterbury, CB40 (F)
Sat 17 (1 day) FLt20, Finals Day, Edgbaston, FLt20 (F)
Wed 21 (4 days) 11am, Gloucstershire, Canterbury, LV=CC2
(CCW)
Mon 26 (1 day) 1.45pm, Nottinghamshire, Canterbury, CB40 (CCW)
September
Tue 3 (4 days) 10.30am, Glamorgan, SWALEC, LV=CC2
Sat 7 (1 day) Semi final, CB40
Mon 9 (1 day) Semi final, CB40
Wed 11 (4 days) 10.30am, Essex, Canterbury, LV=CC2
Tue 17 (4 days) 10.30am, Northamptonshire, Northampton, LV=CC2
Sat 21 (1 day) 1.45pm, CB40 Fina,l Lord's, CB40
Tue 24 (4 day) 10.30am, Lancashire, Canterbury, LV=CC2
*Cancelled if New Zealand are in the final of ICC Champions Trophy