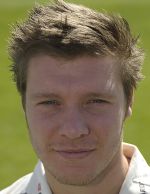 Kent fast bowler Matt Coles has been named in a 17-strong England Performance Programme squad which will tour India for a month from mid-November.
Teenage teammate Adam Ball, an all-rounder, has also been included in a seven-strong England squad for the Hong Kong Sixes tournament in October.
ECB Performance Director David Parsons said: "The England Performance Programme looks to identify and develop players that can go on to be world class cricketers for England in the future.
"This year, following a brief period of training at the National Cricket Performance Centre, Loughborough, we have the opportunity to take players to the sub-continent to work on specific skills which will further their individual games.
"As in previous winters we will be shadowing the England team and their tour which is a model we have successfully used since 2006, providing England with a group of players that can be called upon should the need arise."
Coles (pictured), the 22-year-old from Maidstone who made his Kent debut in 2009, could also be in line for a call-up to the England Lions squad for the tour to Australia in February, will be selected in December.
Meanwhile, 21-year-old keeper-batsman Sam Billings has received a five-month scholarship to Adelaide from the ECB.
Do you think Coles will benefit from playing in the sub-continent this winter? Have your say below.