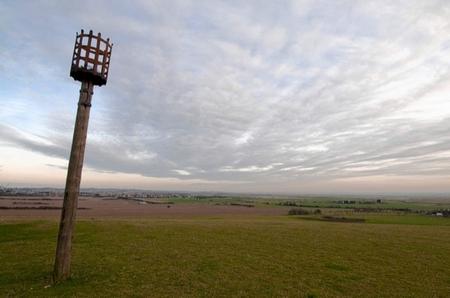 by James Scott
Kent has registered more beacons to mark the Queen's Diamond Jubilee than any other county.
The county looks set to be lit up with fires after 78 town councils, parish councils and churches applied to be part of the celebrations.
Pageantmaster Bruno Peek MBE, who has helped coordinate beacon lighting events for royal events for more than 30 years, confirmed that Kent was leading the way.
The county with the second highest number of beacons registered was Devon, with 77.
"Kent can feel very proud of itself because it is leading the country at the moment," he said.
"I take my hat off to the county and to the Lord Lieutenant of Kent for encouraging the people of Kent to take part."
The beacons will be lit from 10pm on Monday, June 4, with The Queen lighting the last beacon in London at 10.30pm.
Mr Peek said they hoped that more than 2012 beacons would be lit on the night and currently had 1,570 applications. Organisations have even applied to light them as far away as Greece and Russia.
"The beacons are being lit all over the country and not necessarily just on the coastline," he said.
"They're going on church towers, they're going on village greens, it's a really good mixture.
"It's going to be a fantastic night and Kent will certainly be a burning light in the country."
Applicants include the Royal Agricultural Benevolent Fund Institution (RABI), who will light a fire above the white horse carving on Cheriton Hill, Folkestone, and Benenden Jubilee Committee, who plan to light theirs at Glebe Field, the highest point in the Weald.
Beacons will also be lit at Tonbridge Castle and the National Trust want to light one at South Foreland Lighthouse, St Margaret's Bay near Dover.
For more information or to register a beacon go to http://www.diamondjubileebeacons.co.uk/