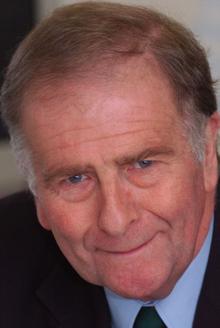 North Thanet MP Sir Roger Gale believes the BBC will be able to rebuild its reputation following the decision by its director general to stand down.

George Entwistle has resigned after just 54 days in the job over his handling of two Newsnight programmes.

The most recent wrongly implicated a senior Conservative politician in child sex abuse, the other was connected to the Jimmy Savile scandal.

Sir Roger, right, who is a former BBC producer and director, believes Mr Entwistle's resignation was inevitable.

He said: "It's very sad; nobody likes to see a good and an honourable career end in that way and I fear George Entwistle was the victim of the circumstances that he faced.

"But at the end of the day he was the editor in chief of the BBC and the buck stops with him."

Several inquiries into the BBC are underway, including the decision to shelve a Newsnight programme into alleged abuse by the late television and radio presenter Jimmy Savile.

Mr Gale believes other jobs will be lost: "While George Entwistle carries the can for the final editorial decision, the day to day reality is that the editorial decisions were taken by other people and there have been some quite clearly appalling errors of journalistic judgement.

"Not to check out the background to the story, not to check out your prime witness, not to offer the person you believe to have been guilty the opportunity to comment is - well it certainly was in my day at the BBC - unthinkable."

Mr Gale believes there has to be a "root and branch" re-assessment of the core values of the Corporation and it's core purpose.

He added: "There's no doubt the BBC's reputation has been badly damaged and that the trust in the BBC is at an all time low.

"I think a lot will depend on who is appointed as the director general, there is a huge job to be done."