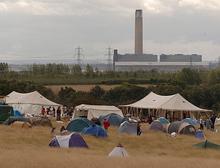 by Lynn Cox
Top cops have now admitted that three people, including two 13-year-old twins, should not have been searched at the Kingsnorth Climate Camp protest.
Kent Police has agreed to compensate the three, who were unlawfully stopped and searched at the protest, which was held in on the Hoo Peninsula, in August 2008.
The force has now apologised about the stop-and-search operation in which the twins, then aged 11, were stopped while attending the demonstration.
The children and long-standing environmental campaigner David Morris, from north London, brought the legal action against the police.
All three were searched under section one of the Police and Criminal Evidence Act 1984, which requires officers to have "reasonable suspicion" that an individual is carrying prohibited weapons or articles that could be used for criminal damage.
The twins and Mr Morris were among 10,000 protesters who were processed through airport-style "checkpoints" and their lawyers told the High Court in January that some 3,550 were subjected to unlawful searches as part of a 5.3 million police operation.
The apology could now mean thousands of other people, who have been wrongly apprehended under controversial counter-terrorism legislation, could also be in line for pay outs.
An urgent review was launched after officials discovered 14 forces had failed to get the correct authorisation for operations that allow them to stop members of the public without reason.
They found 40 operations dating back to 2001 where police who were granted powers to use section 44 of the Terrorism Act 2000 had no legal basis after they applied for an invalid time scale or were not countersigned quickly enough.
Assistant Chief Constable Andy Adams said: "We attempted to engage with the organisers of Climate Camp and, despite their refusal to co-operate, we did allow a peaceful protest to take place.
"The publicly declared aim of some protesters was to break into Kingsnorth Power Station, an action which could have had the consequence of disrupting power supplies to a great number of people in Kent and could also have caused death or serious injury to anyone trespassing on the site."
He added: "We have accepted that many people were searched as a result of officer briefings which took place at the time of Climate Camp.
"A number of these searches should not have happened."
The coalition Government has already ordered a wide-ranging review of counter-terrorism legislation and pledged to introduce safeguards to prevent misuse of invasive powers.