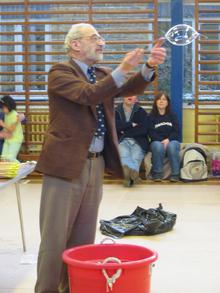 A professor from Kent is hoping to clean up... by using soap to solve mathematical problems.
Dr Cyril Isenberg, from the University of Kent, came up with the idea which works out distance and area equations using the properties made from soap bubbles.
Now his idea - which involves a wire cube dipped into a soap solution to explain it - has been dubbed one of the best articles of the last 100 years by American Scientist magazine.
The work, titled 'The soap film: an analogue computer', was first published in 1976.
But it got scientists into a lather, and is now considered a game-changing piece of work.
Dr Isenberg, now an honorary lecturer at the University of Kent's school of engineering and digital arts, still soft soaps students with talks linking the beauty and art of bubbles with their science.
Dr Isenberg said: "Mathematicians have been trying to work out area problems for years.

"By using the soap film you can provide an analogue solution… and it gives them a guide of trying to find an analytic solution to these problems.

"It's a subject where everybody can do the demonstrations and see for themselves the interesting properties."

Professor Mark Burchell, Dean of Kent's Faculty of Sciences, said he's delighted Dr Isenberg's article has been recognised in the prestigious journal.
He said: "For many years he has given his highly popular talks linking beauty and art of bubbles with the equally beautiful science that explains them."