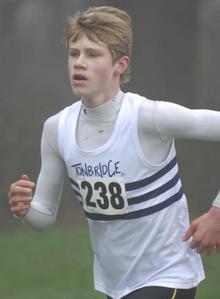 Kent Schools were proud winners of the Liverpool Trophy for the best aggregate boys' team score for major counties in the English Schools Cross Country Championships at Catton Hall, Swadlingcote, Derbyshire on Saturday.
The girls finished third overall behind Essex and Surrey to complete a successful trip for the Kent schools athletes.
There were six races and Kent won the junior boys event with Tonbridge athletes Alasdair Kinloch (8th) - pictured - and Jamie Goodge (10th) key to the team success.
Jake Berry (42nd) of Medway and Maidstone and Tom Kendrick (48th) of Tonbridge were also prominent in the winning team.
The intermediate boys were second to Sussex with Jack Goss (Invicta, 18th) and George Duggan (Tonbridge, 24th) the leading scorers. Chris Cohen (31st, Tonbridge) and Richard Webb (34th, Blackheath) were also well up in the 300 strong field.
The senior boys saw Surrey edge Kent in the team race but Charlie Joslin-Allen of Tonbridge AC had his best race of the winter to secure the individual silver medal. His team mate Max Nicholls was sixth and James West (38th, Tonbridge) ran well in support.
The junior girls emulated their male peers to take the team race with Jessica Keene (8th, Blackheath) and Holly Page (16th, Dartford Harriers) in excellent form. Great support was provided by Sabrina Sinha (Cambridge Harriers) and Georgina Taylor (25th, Blackheath).
The intermediates were tenth with Amy Old (30th, Invicta) and Leah Melvin (56th, Dartford Harriers) leading the team.
The senior girls finished sixth with Tonbridge athletes Saffron Salih (21st) and Nicola Wilkinson (29th) making the greatest impression in another field of 300.