A staggering £27m has been spent in Kent to ferry children to and from school in private taxis and minibuses in the last year.
Between April 2011 and March this year 10,838 school pupils across the county used hired transport, which includes taxis, minibuses and coaches.
Of that, £31,900 was spent by Kent County Council [KCC] on school transport to ferry just one child to and from Sevenoaks to Lewes in East Sussex.
But the longest single journey for a private taxi during the period was from Broadstairs to Grange-over-Sands in Cumbria - a distance of 347 miles.
In neighbouring Medway the longest journey was 195 miles - with the council forking out more than £12,000 for a single pupil travelling out of the towns to a specialist education school.
It is believed the majority of the money spent on private taxis by the two local authorities is for children with special education needs [SEN].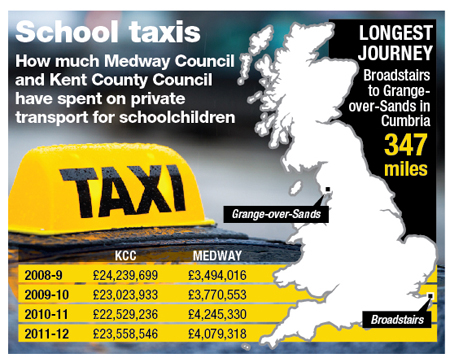 But mums and dads from the Kent Parents as Equal Partners forum [Kent PEPs] whose children have SEN, say the amount of money being spent on private taxis doesn't reflect the service being given.
Debs Aspland, 41, from Ashford, has three children, her eight-year-old boy has autism, her seven-year-old son is blind and his twin sister has language and communication problems.
She says drivers in some of the private hire companies don't speak English and are not trained to deal with disabled and autistic children, especially if they were to have a fit.
According to guidance by the Department for Education and Skills all local authorities should ensure all drivers and escorts taking pupils to and from school have undertaken disability quality training.
But Steve Wright, chairman of the Licensed Private Hire Car Association [LPHCA] disagreed, sahying "drivers need to be trained to drive - and that's all.
"All drivers that take special needs children should have an escort.
"That is someone who is trained to deal with special needs children.
"If there is not an escort that would worry me, but that's not the role of the driver, it's the role of the local authority to have someone who can communicate with the child.
"It's not the driver's duty to engage with the autistic child."
As director of Kent PEPs, Debs carried out a survey of parents.
Nearly 200 responded, with more than 80% saying they hadn't met their drivers before the school run.
Ninety per cent weren't aware if the drivers had any disability training - with only three or four parents seeing Criminal Records Bureau (CRB) documentation.
She said: "You have to take them at face value in the morning - you don't see their CRB check, so you don't know if your child is going to be safe."
But Mr Wright said: "If they're using a licensed taxi or private hire it's the law that they are CRB checked."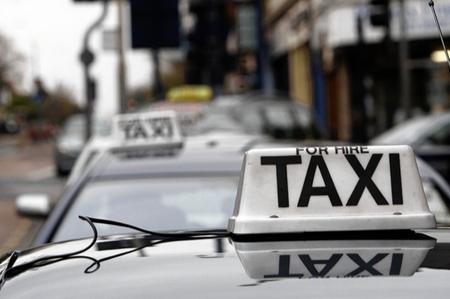 Sam Leaning's seven-year-old autistic son takes a private taxi to get to his specialist school in Ashford, 15 minutes away from her home.
Sam, 38, said it was"really scary" that she has no idea if the driver can deal with an emergency: "He's got epilepsy and the escort and driver are not trained in what they would do if he had a seizure in the car or to administer medication."
Jan Larkin's autistic son travels around 30 miles in a private taxi from their home in Sittingbourne to Maidstone for his specialist school.
She said: "If it were somebody from the school driving the bus I'd have no problem with that because they know the children and what could happen - but it's the fact they'll have a bus driver that doesn't know anything about the children."
Mum-of-three Allison Williams' autistic son also travels to New Ash Green.
She claims: "We've had drivers and escorts that can't even speak English and when you've got children with language and social problems, tha's ridiculous."
The parent forum is calling for all drivers to have specialist disability training, which Allison says would, in the long run, cut costs.
"If the bigger companies have specialist training, quality escorts, drivers use to doing long distances and if they (KCC) planned the routes and pick ups better, they could keep the costs down."
Debs added: "KCC have a legal duty to provide the transport because the children have got statements (SEN) - what they forget is they also have a duty of care.
"They don't put out when they tender what the needs of the children are - they'll just say how many children there are."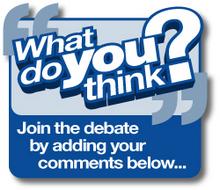 In a statement a spokesman for KCC said: "In the majority of instances, transport is provided as it is a statutory requirement placed upon the council. KCC is committed to providing the most appropriate solution.
"Hired transport, including taxis, will always be a last resort.
"However, there are times when it is the most appropriate or only way to support the child's journey to school.
"KCC only uses appropriately licensed operators and drivers. Operator and driver licensing is a function of Kent's district councils. All drivers are subject to a CRB check.
"Where it is required, an escort will be provided with escorts receiving KCC escort and disability awareness training.
"Where a child has particular medical or other needs, the operator will be made aware and the escort will receive further information and guidance, usually from the school nurse."
A Medway council spokesman said: The service currently provides for almost 1,400 children and young people, a figure that is rising as the population rises.
"We have recently approved a new travel policy that will help pupils develop independence and limit travel costs in a range of ways.
For example, it limits the use of individual taxis to only exceptional cases and encourages shared transport, which will not only be cost effective, but will help students develop confidence and independence as they approach adulthood."