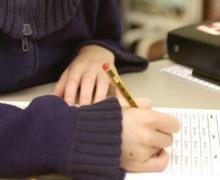 Families are anxiously checking their emails today as the results of the Kent Test get sent out to thousands of pupils.
Year 6 children, set to start secondary school in September next year, started to hear from 4pm today whether they have been successful in the test.
Letters will also be sent to all families this afternoon, to arrive on doormats from tomorrow.
They then have until the end of this month to submit their school application.
The official closing date is Monday October 31 - but with the October school holidays, applications made before 5pm on Friday November 4 will be considered.
Statistics sent out by Kent County Council reveal 11,003 pupils sat the test in the county - marginally up on last year.
Of those, 5,308 were assessed as suitable for admission to grammar schools in September next year. Again, that's just a few up on last year.
But education chiefs warned passing the Kent test doesn't guarantee a place in a gramar school. If more children apply for places than a school can handle, the council's "oversubscription" criteria kick in.
Families should know which school they have been allocated by March 1 next year.
KCC Cabinet Member for education, learning and skills, Mike Whiting, said: "The decisions that families will be making over the next couple of weeks are really important.
"The secondary school years are when children turn into young adults and finding the right school to suit their educational needs will be a parent's primary focus.
"The good news is that Kent has a diverse range of secondary schools where, if a child is prepared to put the effort in, they will reap the rewards."
Thousands of families can name up to four preferred schools. The easiest way to apply is online. Last year the vast majority of families used the www.kent.gov.uk/ola website.