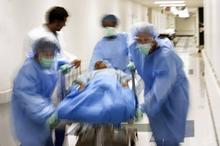 by Nicola Everett
A Kent woman has been injured taking part in a round the world yacht race.
According to race organisers it happened when a large wave hit one of the 10 68-foot yachts taking part in the competition during a storm.
Dr Jane Hitchins, 50, who is on board the Geraldton Western Australia, suffered four suspected broken ribs - three other members of the crew from Britain and Australia were also hurt.
It's believe Dr Hitchens works for the East Kent Hospitals NHS Trust.
All crews' families have been informed.
An operation is now under way to get medical supplies and assistance to the crew, who are about 400 miles off the California coast in the Pacific Ocean.
The US coastguard is arranging for a team to parachute down to the yacht to look after the casualties - a nearby container ship is also diverting to the scene.
Race director Joff Bailey said: "We are naturally concerned at the recent incident on Geraldton Western Australia and are in close contact with the skipper, UK Maritime and Coastguard at Falmouth and the US Coast Guard.
"The safety of all Clipper Race crew is extremely important to us. Our skippers are highly experienced and several crew members on board have medical training.
"A deep depression hit the fleet earlier today, with winds gusting over 60 knots. First reports described the yacht being caught by a large wave. We will issue more details as soon as we have them."
The race, which covers 40,000 miles and takes 11 months to complete, started in the UK last August.
The yachts have already travelled to South America, South Africa, Australia and New Zealand.
For more information, go to the race website.