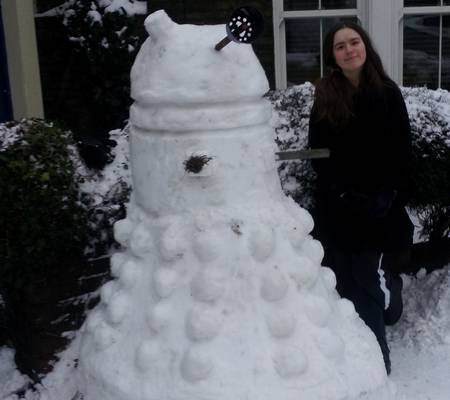 The snow might have caused travel headaches for some - but others across Kent have been making the most of the white stuff.
Readers across the county have helped us capture a snowswept Kent by sending in their pictures.
Whether it was children making the most of an unexpected day of or animals trying to keep warm, the county looks at its snow-tinged best.
Snowmen have been popping up around the county - including one sculpted as a naked woman!
A less controversial snowman in Faversham was modelled on a dalek from Dr Who by Mark Holmes and his 13-year-old daughter Daisy.
Mark said: "Daisy absolutely loves Dr Who. She calls herself a Whovian and it was her idea to build the Dalek.
"We had help from neighbouring kids and it took a couple of hours to make it. There were cars stopping last night to take a picture."
Email your snow pictures to multimedianews@thekmgroup.co.uk or tweet @Kent_Online.