Today marks the 60th anniversary of the disastrous 1953 east coast floods.
It was said to be the worst natural disaster ever to hit the UK - when more than 1,000 miles of coastline were struck by a huge storm surge.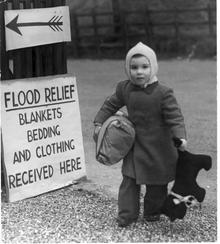 In total 307 people died, 24,000 homes were damaged or destroyed and more than 30,000 people were evacuated.
Exceptional weather conditions, coupled with poor telecommunications and the fact that there was no single body responsible for flood warnings, meant whole communities were unaware of the looming flood threat.
Today, thousands of homes and business properties in England and Wales are at risk from coastal flooding.
However, according to the Environment Agency, the risk of a disaster on the scale of the 1953 floods has been significantly reduced because of the billions of pounds spent on flood defence and warning systems.
Extensive flooding took place all along the east coast of England and in Holland - where the flood channels and sea defences could not contain it.
One of its natural paths as far as England was concerned was the Thames Estuary.
Tidal predictions went by the board as the surge filled every creek and inlet and overflowed into those areas lying below sea level.
Canvey Island, in Essex, where many people lost their lives, and Whitstable were among the hardest hit, although Whitstable did not suffer any fatalities.
Although the town had some sea defences in place, and plans to extend them, they were not of sufficient height or strength to deal with one of the highest tides for many years.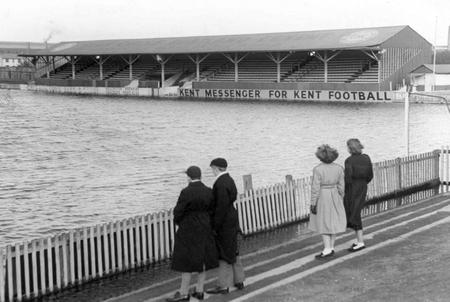 Waves not only topped the wall in some areas, but also smashed their way through it.
People living in the middle of the town woke to the sound of water rushing into their homes.
Some tried to stem the flow by blocking doors only to find it creeping through air bricks.
---
Related stories
---
Others, realising there was little they could do, moved what they could to upper storeys and stoically went back to bed.
It was not until dawn that they realised they were in a disaster area.
The interiors of shops in the High Street and part of Oxford Street were flooded to a depth of several feet. Bakers could not light their ovens to supply bread, and milk deliveries were seriously affected.
Many homes were without electricity and it was not until later that coal merchants could start delivering the fuel desperately needed for warmth and drying carpets and furniture.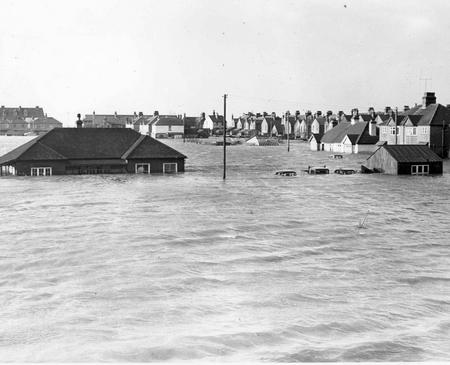 Ironically this was brought into the town by the Canterbury and Whitstable rail link which had been declared uneconomic and closed a few weeks earlier.
Island Wall, Waterloo Road and Cornwallis Circle were among the worst affected areas with many people, especially the elderly and disabled, trapped in their bedrooms.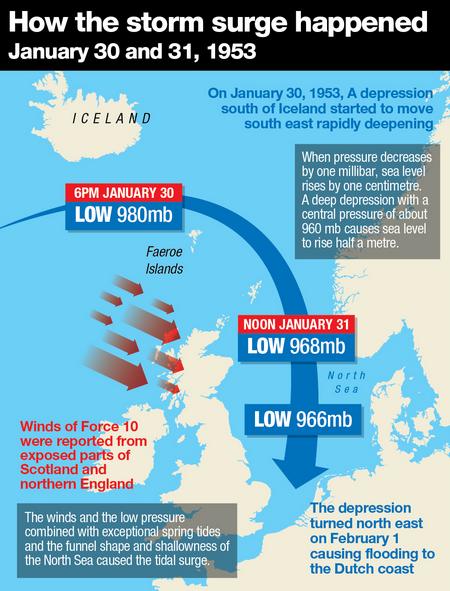 A fleet of rowing boats was organised to rescue them and take them to safety with amphibious DUKW vehicles known as ducks crewed by American servicemen from Manston joining in the operations.
Cats were gathered up and kept in a safe place until they could be reunited with their owners. Other animals were not so fortunate.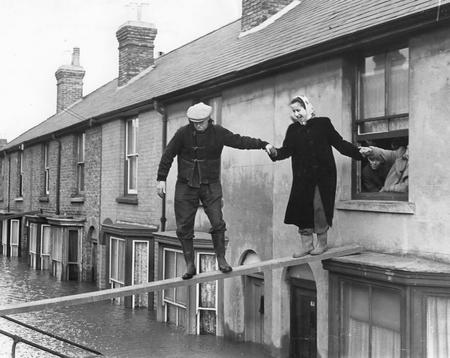 Cattle and sheep grazing on the marshes between Faversham Road, Seasalter, and the embankment carrying the main line to London, were trapped.
Many were saved and taken to high ground, but a number were overcome by the water and died as a result.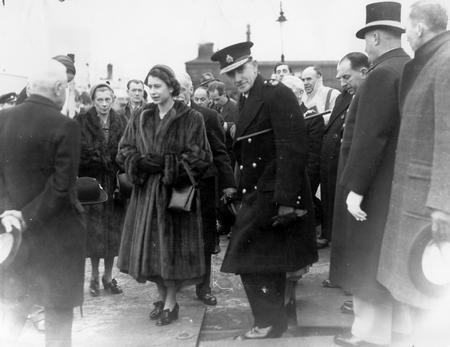 The water in Whitstable town centre started to recede on the Sunday. Fire brigades from Kent and London were joined by service men and women drafted in for the clear-up.
They worked day and night but it was weeks before the water was pumped away from the worst affected areas leaving families to cope with the residue of mud, shingle and the long term effects of the salt on buildings.