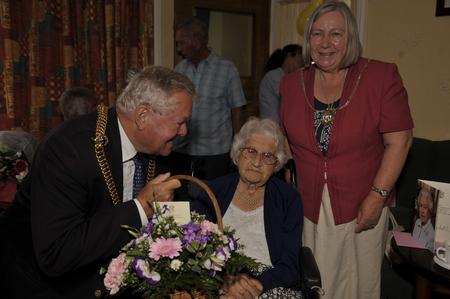 By Joe Walker
joewalker@thekmgroup.co.uk
Kent's oldest woman was joined by five generations of her family as she celebrated turning 111.
Violet Wood hit the staggering milestone last Thursday at the St Martin's care home in Joy Lane, Whitstable.

Son David, 85, grandson Glen, 61, great-granddaughter Nicola and great-great grandson Cameron, four, all joined her for the party.
It was the 12th birthday Violet has received a card from the Queen and cements her place as the fifth oldest person in Britain.
David said: "Mum always says it's down to hard work and good food.
"She was a farm worker all her working life and says there's no food better than food off the land.
"She says it's a lot better than the stuff we get nowadays."
Great-great grandmother-of-six Violet – who at 100 was the oldest person in Britain to have a hip replacement - was born in Graveney in 1899.
At the age of 21 she married husband Harry and the couple had their only child David three years later.
Violet worked on farms throughout her life before retiring with Harry, who died in 1984.
She moved to the home in 1995 with her sister Bertha, who died two years ago aged 106.
Her other sister Marjorie died just one short of the century milestone.
Care home manager Joanne Thomas said: "Violet is certainly a character and to reach 111 is just staggering.
"She's got a great sense of humour and is brilliant with the staff and the other residents.
"The next oldest we have here is probably only 94."