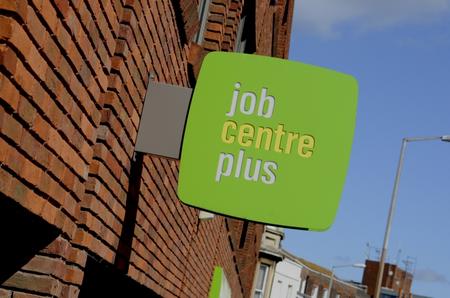 by business editor Trevor Sturgess
Unemployment has continued to fall across most of the county, with the latest figures showing a drop of 308.
The number of people claiming Jobseekers' Allowance in Kent and Medway stood at 34,726 on November 8, according to the Office for National Statistics.
The Medway total dropped by 140 to 6,808 (4% of the workforce), while 168 left the dole queues in the rest of Kent - leaving a total of 27,918 (3.1%) looking for work.
The countywide total has fallen by nearly 1,000 since November 2011.
However, it was not all good news this month, with four of Kent's 12 districts - three in the east of the county - posting higher totals.
In Shepway, Swale and Thanet, 80 more people signed on, while Tonbridge and Malling posted a surprise increase of 25.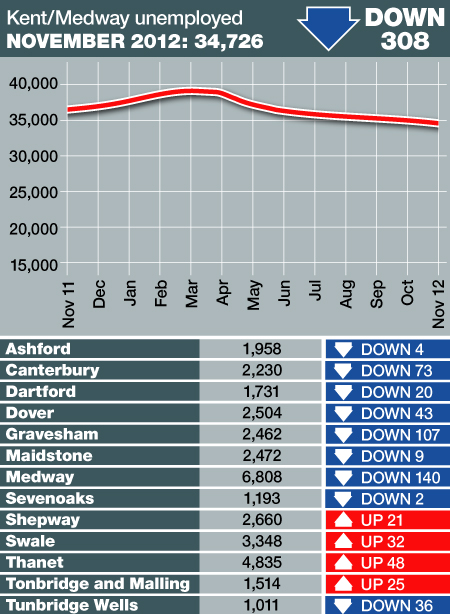 Nationally, 2.51million people were unemployed from August to October, down 82,000 on the previous three months. The unemployment rate was 7.8%.
The claimant count was 1.58million, down 3,000 from October 2012 and down 20,900 from a year earlier.
The number of people in work - 29.6million - was up 40,000 on the previous quarter, and 499,000 higher than a year ago.
The number of unemployed 16 to 24-year-olds not in full-time education fell by 90,000 to 626,000, the lowest figure for three years.
David Kern, chief economist at the British Chambers of Commerce, said: "Once again, we are seeing encouraging labour market figures, with unemployment down and employment up.
"Today's figures overall are positive and support our assessment that the UK economy will grow over the next year, albeit at a modest pace."
Claimant count figures on November 8: Kent and Medway, 34,726 (down 308); Medway, 6,808 (down 140); Rest of Kent, 27,918 (down 168); Ashford, 1,958 (down four); Canterbury, 2,230 (down 73); Dartford, 1,731 (down 20); Dover, 2,504 (down 43); Gravesham, 2,462 (down 107); Maidstone, 2,472 (nine); Sevenoaks, 1,193 (two); Shepway, 2,660 (up 21); Swale, 3,348 (up 32); Thanet, 4,835 (up 48); Tonbridge and Malling, 1,514 (up 25); Tunbridge Wells, 1,011 (down 36).