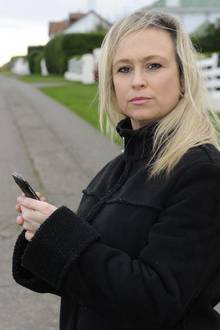 by Nisha Chopra
A mother-of-three who was stalked by a stranger has created an app that alerts loved-ones if someone is in danger.

Kerry Barnett, 42, from Kingsdown, near Deal, was eerily followed by a man who worked at a supermarket five years ago.
And it was after becoming a full-time mum and seeing news coverage of missing children that she got inspiration to create Emergency Button.
The panic button-style smartphone app sends a message to let family members or friends know the user is in a vulnerable situation.
Mrs Barnett, pictured left, said the technology provides a sense of having "peace of mind" for the loved-ones of anyone who feels threatened.

She said: "Week by week there's something in the papers, whether it be abduction, domestic violence, someone being raped - the statistics are huge.

"With my experiences through life I could change other people's – I am an ordinary mum that has to listen to the news every day and live in fear about what's out there for her children."
Her inspiration for the app came after the case of 13-year-old Milly Dowler, who was abducted and murdered on her way home from school in Surrey in March 2002.
Mrs Barnett said: "Milly Dowler's parents were on the news and I felt this empathy and it just popped in my head to have a panic button for the mobile phone.

"If you're going to be somewhere vulnerable, you're at risk of domestic violence or suddenly find yourself walking home on your own from a nightclub, you would set your emergency button to your page and press it when you feel threatened."
"i was approached in a car park by someone chatting me up... this person had photographs of me and had a shrine of me in their bedroom..." – stalking victim kerry barnett
The app sends a message to the people who the user wants to know they are at risk.
They are then sent your location and can act quickly. Up to 10 people can be alerted and panic alerts can also be posted on Facebook.

She said she was stalked by a man when she lived in Newcastle.
"I had experiences in my life and I wish I'd had something like this app," Mrs Barnett added.
"I was first approached in a car park by someone chatting me up and then I found out during that conversation that this person had photographs of me and had a shrine of me in their bedroom."
Mrs Barnett contacted police and the man was cautioned. The stalking stopped and she later moved to Kent.

Emergency Button, which can be downloaded as an app on smartphones, has been a work in progress for the former head chef since July last year and, with the help of friends and selling her Lexus RX car, she managed to raise £3,000 to get the app live.

Her company iAlert also has other ideas surrounding the issue of safety and hopes to release more products in the new year.