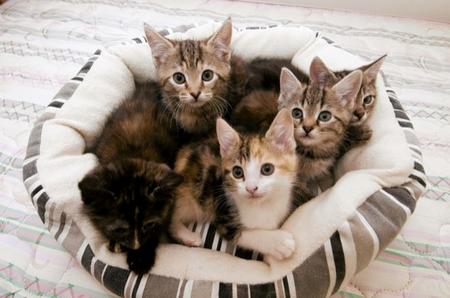 Kittens that had a brush with death after being dumped in a cardboard box in a Sittingbourne park are among an ever-increasing number of abandoned pets, says the RSPCA.
The litter of five was discovered one Thursday morning at the end of last month by a mum walking her children to school who heard their cries.
Three had conjunctivitis and they were all riddled with fleas.
Sittingbourne RSPCA branch chairman Karen Davies said they were almost certainly left there that morning, because they would not have survived the night.
"It was cold that week. They had no blanket. Had they been there the whole night they would have been found dead," she said.
Karen, who has been involved with the RSPCA for 18 years, said the problem of unwanted pets was reaching crisis point.
"people are so naive. they don't have a clue you need to get a cat neutered
" – rspca branch chairman karen davies
"It's just getting worse and worse each year. In the last six months, we're getting more and more. They're getting dumped or reported as strays.
"People cannot afford them and instead of being honest they say it's a stray they've been feeding.
"When I was on call, I got calls every single day of the week about cats people did not want anymore."
In September, on two separate occasions, mother cats and their kittens were found dumped in Borden. Others have been left outside town vets.
Animal charities are being stretched to the limit, says Karen, fosterers pens are full of cats waiting for new homes while the number of people taking on pets is in decline.
The Sittingbourne branch has 16 cats that need rehoming, some of which are in private catteries due to a shortage of fosterers, which is a further drain on funds.
Karen said the answer to the problem was simple. "The solution is neutering and micro-chipping. People are so naive.
"They don't have a clue you need to get a cat neutered, otherwise they will breed from such a young age."
Meanwhile, the five found in the park were entrusted to Karen and she said they were doing well.
Now named Polly, Mia, Daisy, Lula and Leo, they will remain under her supervision until they are old enough to be rehomed.
Anyone interested in rehoming a cat or becoming a fosterer should call the Sittingbourne branch rehomer Jacky Shrubsall on 01622 884464. For advice on neutering and micro-chipping or to see the cats waiting for new homes, visit www.rspca-sittingbourne.org.uk