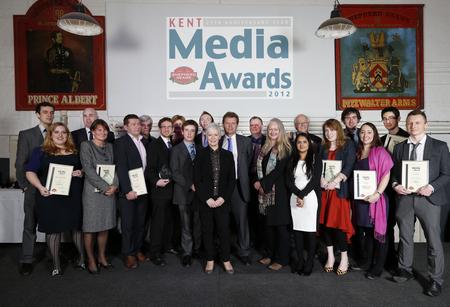 The KM Group has swept the boards at the Shepherd Neame Kent Media Awards - with KentOnline scooping a top honour.
The annual ceremony, which celebrates the best in journalism from Kent, saw scores gather at Shepherd Neame's Old Brewery Store in Faversham.
More than 100 guests listened to a talk from Ann Barnes, the recently-elected Kent Police and Crime Commissioner.
Presented by radio stalwart Barbara Sturgeon, key awards were given to KM Group employees.
They included kmfm's Jessica Banham for young journalist of the year and Dan Bloom, of the Medway Messenger, for newspaper journalist of the year and overall journalist of the year.
Judges described Dan Bloom as "a journalist whose breadth of work, determination, ability and dedication has produced some tremendous stories".
Gerry Warren of the Kentish Gazette was commended in the newspaper journalist category, and Lesley Bellew was commended in the feature writer category.
The title of news service of the year was won by this website.
Judges said KentOnline "presents a wonderful mix of written copy, imagery, great interaction with users via social media, all the result of talented journalists working well as a team."
KM Group business editor Trevor Sturgess won the Shepherd Neame contribution to journalism award, presented by former KM managing editor Ron Green.