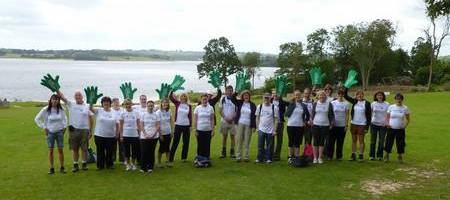 Energetic staff from Brachers have raised £9,000 for Macmillan Cancer Support (Kent) with impressive feats of swimming, cycling and walking.
Between them, they swam 21 miles (equivalent to crossing the Channel), cycled 1,424 miles (the distance between London and Olympia in Greece), and walked 874 miles (the distance from Land's End to John O'Groats).
The TRYathlon Challenge was undertaken over six days, ending with a walk by nearly half the workforce around Bewl Water.
Brachers' CEO Philip Cunningham said: "Staff really got behind the idea, had a lot of fun and in the process raised a fantastic amount of money for Macmallian. It's been excellent to see everyone working towards a common goal and has been great for staff morale."
Moira Mitchell, Kent fundraising manager for Macmillan - Brachers' charity of the year - added: "When Brachers came up with the TRYathlon idea we thought it was really ambitious. The fact that they managed to complete all the mileage requirements and raise as much money as they have is a real achievement."
Donations can be made at www.justgiving.com/bracherstryathlon.