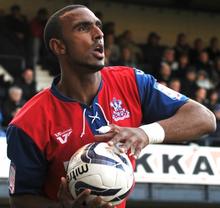 By Luke Cawdell
Leon Legge revealed that a key factor in choosing to join Gillingham was a glowing reference from his former team-mate Myles Weston.
Both players grew frustrated at a lack of first team action with League 1 Brentford and both have now jumped at the chance to join Gillingham's promotion push.
Legge's decision to quit Brentford for a fresh challenge was music to the ears of Gills boss Martin Allen, who was keen for an experienced, athletic and determined central defender.
And while the Gills have become more thorough in selecting new transfer targets, Legge (pictured) made sure he did his own homework first.
"I have known about Gillingham for a long time," said the 27-year-old. "I lived in Sussex for 23 years and I always kept an eye out for Brighton or Gillingham results as they were the closest clubs to me.
"I had a friend here when he was younger and he said the club was good to play for and it's a good opportunity for me and to be closer to home as well.
"I have also been watching Myles Weston and seeing how he is getting on and they have been playing well. I asked him about the club and he said he is loving his football. He was in the same position as me when he was at Brentford.
"He wasn't playing and just wanted to play football. He is loving life here and he sold it to me. I said to him, 'what's it like?' and he said 'yes, come and play here' and that's all I want to do really."
Legge initially joined the Gills on an emergency loan, to enable him to make his debut at Southend, but he has already signed a deal which keeps him at the club until the summer of 2015.
Read the latest Gills blog by clicking this link.
Read the full interview in Friday's Medway Messenger.