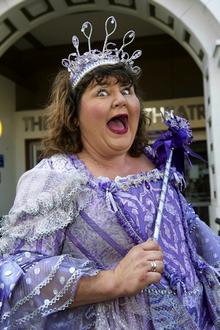 Being killed off as Heather Trott has kicked off a happy year for Cheryl Fergison, who stars as the Fairy Godmother in Cinderella alongside impressionist Paul Burling. Chris Price caught up with the stars.
One thing becomes clear quickly when chatting to ex-EastEnders star Cheryl Fergison. She laughs, loudly, all the time.
"Oh, excuse me," she said with a cackle as she adjusted her skirt as it flapped in the breeze on the bank of the River Medway. "I've just got... wind," she said, before quickly correcting "not in that department, there's not a wind machine under here, just real wind."
Cue another cackle.
That said, Cheryl has a lot to be happy about. Since being killed off as Heather Trott in Albert Square's storyline of the year back in the spring, the phone has not stopped ringing.
She did Come Dine With Me and came fourth – "because I can't cook" – and worked on the Spa, a new comedy set for broadcast on Sky Living next year.
She appeared in Celebrity Big Brother and next on the agenda is her role as the Fairy Godmother in Cinderella at Chatham's Central Theatre.
"It's been brilliant. I have been blessed with work and I've been lucky," she said. "I miss them terribly on EastEnders but at the same time it is great to move on and I have a fun Christmas ahead of me."
It is striking how the public have taken to Cheryl. Her run in Celebrity Big Brother – alongside fellow Kent resident and eventual winner Julian Clary – saw her leave the house to roaring cheers after her shock exit.
"I didn't get involved in any of the foolishness," said Cheryl, 47, who lives in Sidcup. "I just wanted to go in there, have some fun and show people who I am. I also enjoyed swimming every day because I don't have a pool. When you have lived on council estates all your life, you think a puddle is a pool.
"In fact, I would have liked to have kicked them all out and just live there because you don't have to pay any bills or anything. They feed you and you don't get 'mum, mum' in your ear. It's a fantastic place to be," added the mum-of-one.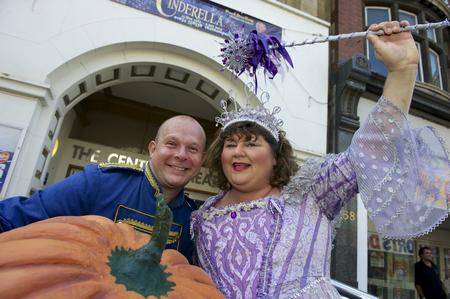 Despite major TV shows on her CV like Allo Allo, Dr Who, Little Britain and the IT Crowd, this is Cheryl's first foray into pantomime.
"I have done Christmas shows before. I was in Wind in the Willows once, I played the wind," she giggled.
By contrast, her co-star Paul Burling is a veteran of six pantomimes in Chatham alone and is under no illusion why he keeps returning to the town.
"They pay the right money," he quipped, cueing more cackling from Cheryl. "I do it because it is always a great place to come to. The audiences are always friendly and because I have done it so many times, I have got a bit of a following as well."
Getting his big break on Britain's Got Talent in 2010, the impressionist has also done his own show It's Paul Burling! for ITV and the Slammer on CBBC.
He was personally requested by Harry Hill for his new show and has also done a slot on Dick and Dom's new series.
"It is about profile as we all know in the business and it opened a lot of doors I could never see opening, even though I was respected for my voiceover work," said Paul, whose from Bristol.
Being in a better position to judge than many to decide, he has high hopes for this year's cast.
"We all met up and have hit it off brilliantly which always stands us in good stead," he said. "We have all gelled instantly, so in the live shows that is going to come across to the audience."
Cinderella, starring Cheryl Fergison and Paul Burling, runs at Chatham's Central Theatre from Thursday, December 13 to Sunday, January 6. Tickets from £12 to £22, concessions available. Box office 01634 338338.