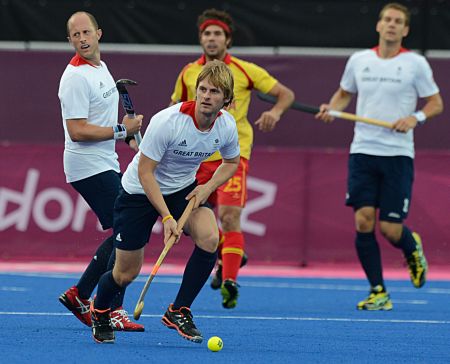 by Alex Hoad at the Riverbank Arena
Ashley Jackson says his GB team are seeking to do something 'even more special' than the historic Olympic Gold medal won by the historic team of 1988.
West Malling star Jackson scored again as GB earned the point they needed to secure their first semi-final place since the storied 1988 side with a 1-1 draw against Spain at the Riverbank Arena on Tuesday night.
GB now face the red-hot Dutch side, winners of all five of their group games, and while 24-year-old Jackson (pictured) admitted: "It's going to be tough," he insisted: "We believe we can beat anyone."
The former Tunbridge Wells player took his tally to five goals in as many games at this Olympics with another trademark penalty corner drag-flick three minutes before half-time which put send the packed Arena wild and put GB ahead.
However, not for the first time in this campaign, GB allowed their opponents to seize the initiative after taking the lead and ended up withstanding a barrage of pressure late in the second half.
The Spaniards had already drawn level from a penalty corner conversion of their own from Pau Quemada before they laid siege to the GB goal in the closing 10 minutes, with keeper James Fair having to make a string of fine saves.
A goal at that stage would have sent Spain through to the last-four along with Group A winners Australia, but with the help of two penalty corner awards in the closing two minutes being over-ruled by the officials, GB clung on to their precious point against a team they have not beaten in a major tournament for 25 years.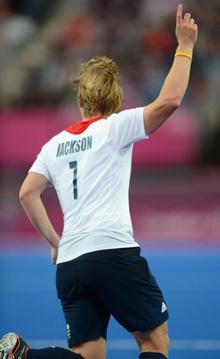 Jackson (pictured celebrating his goal) said: "I'm really proud of the guys to hang in there and dig hard and fight for each other. It shows how we are as a team.
"Hopefully that showed through - the belief we could still do it, rather than the nervy, edgy last few minutes it might have looked like.
"We hung in there at the end. We're strong. It takes a lot to break us down. We've seen in those dogged last few minutes that we stood together.
"We're in the semi-final, that's all that matters. We've come through a tough group. It gives us confidence."
Next up are powerhouses the Netherlands, who have reached six straight Olympic semi-finals and won gold in Atlanta and Sydney, on Thursday.
Jackson said: "They have had all wins from their group and whoever you play in the semi-final is going to be tough, but we really do believe we can beat them. We believe we can beat anyone in this tournament.
"They know not to take us lightly, but let's hope they do."
Jackson said the crowd played a part in helping GB withstand the late pressure, saying: "We've seen it a few times in this tournament, against South Africa, Australia and again in the last few minutes tonight.
"Hopefully they turn out in numbers again and really make the difference."
Asked for the umpteenth time these Games about the 1988 gold-winning team, inspired by Canterbury legend Sean Kerly who scored a hat-trick in the semi-final in Seoul, Jackson said: "They're part of history and you can't take anything away from them.
"We're trying to do something more special. We've got 18 world class players. To do it as a group and as a team and not necessarily have anyone stand out as the only player that won them that tournament, it would be very special to share it with these guys."
Jackson also revealed the hockey side were able to draw inspiration from the Team GB gold rush of the last few days.
He said: "It's been unbelievable, watching it. People think we're under pressure but Jessica Ennis was the face of these Games, look at what she had to go through.
" It makes you think 'our job's easy' - it takes a bit of weight of our shoulders – but to see the looks on their faces and what they've achieved... you definitely want to be a part of it."