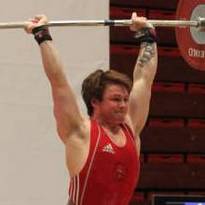 by Alex Hoad
Weightlifter Jack Oliver says he is focused on recording a new personal best at London 2012 - but admits his best chances of medals may lie in future Games.
The 21-year-old Sidcup born and Bexleyheath-raised star (pictured) is Britain's sole entrant in the 77kg class and will take to the stage at ExCel on Wednesday morning.
The Europa Weighlifting Club, Erith, graduate - coached by Dartford's former Olympian Andrew Callard, finished eighth in his only appearance at a major international Games, the 2010 Commonwealth Games in Delhi.
He was also crowned senior British Champion in 2010 and 2011 but says his sights are set on success in the next Commonwealth Games in Glasgow in 2014 and at the Rio Olympics two years later.
He said: "I am obviously thinking forward. At the minute and for the last year or so my focus has been on London.
"I changed my university course so that I was attending part-time, to focus on training, so everything really has led to this moment.
"But (the whole weightlifting team) are all still thinking about the future. All of us have good medal potential for Glasgow 2014, and then Rio 2016.
"So of course it is something we're thinking about but at the moment we are focused on now and producing personal bests on the stage here."