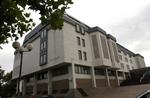 A Maidstone man accused of a string of sex offences will stand trial next year.

Peter Wallace, 54, has pleaded not guilty to five charges of indecent assault, two of sexual activity with a child, one of indecency with a child and one of sexual assault.

His four-day trial was fixed to start at Maidstone Crown Court on May 16. Wallace, of Brewer Street, was released on bail.