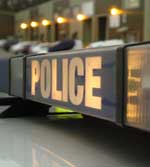 by Anna White
Armed police swooped on a town centre where a man was reportedly carrying a gun.
Kent Police officers arrived in Union Street, Maidstone, at around 6pm yesterday.
Joel Mason, 22 and from nearby Wheeler Street, was arrested.
He was later charged with possessing an imitation firearm with intent to cause fear or violence.
Mason was due to appear before Maidstone magistrates today.