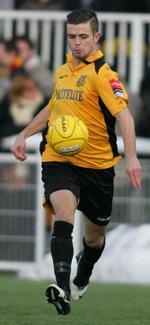 Maidstone winger Ben Greenhalgh could be closing in on a move to the Scottish Premier League.
Greenhalgh, 20, will miss United's top-of-the-table clash at home to Leatherhead tomorrow (Saturday) as he prepares for a second week of trials with SPL high-fliers Inverness, managed by former England captain Terry Butcher.
Stones boss Jay Saunders said: "They liked what they saw when he went up a fortnight ago and have invited him back to train with the first team and play a couple of games.
"His quality shines through and it's a blow not to have him but it was part of the deal when he joined (from Ebbsfleet) that he could go on trial.
"He has an agent and wants to be a full-time professional and he has a big chance. It's all right taking trials but on the flipside, it's also important he gets games.
"If things don't work out at Inverness, maybe he could see out the season with us and go from there."