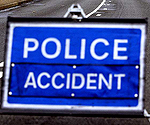 A motorist has died after a crash on the Isle of Sheppey.
The 73-year-old man is thought to have collapsed at the wheel in New Road, Minster-on-Sea, yesterday.
Paramedics and firefighters gave him CPR as they battled to save his life, but the man died at the scene.
Crews were called at about 5.20pm. The man's car is understood to have hit another vehicle.