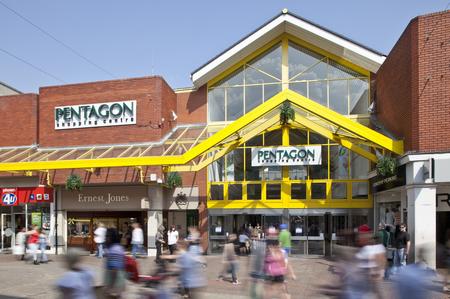 by Lynn Cox
A man has died after he is believed to have jumped from a car park at the Pentagon Shopping Centre in Chatham today.
It happened at about 11.20am and, despite police trying to treat the man, he was pronounced dead at the scene.
The man is thought to have jumped off Medway Council's multi-storey car park on the side of Solomon Road.
Shocked shoppers and people working nearby posted comments on Twitter saying they were horrified to have seen the man jump - before a sheet was put over him.
The area has been taped off by police, who confirmed the man died at the scene.
One witness was Max Emmens's mother, who saw what happened as she had parked in the area.
Max said: "She was parked around the back where the mobility shop is.
"She heard a shout and watched him fall to the ground - he didn't survive."
A Medway Police spokesman said: "Police were called out to Solomon Road, Chatham, at 11.22am after reports from people that they were concerned for a man there.
"Officers closed the road at 11.30am."