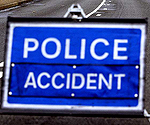 A driver escaped serious injury after a crash in Maidstone today.
The man's vehicle overturned after it hit a lamppost at about 12.30pm in Willington Street, near the park and ride.
He had managed to release himself from the vehicle by the time firefighters arrived.
The man reportedly suffered minor injuries and no other vehicles were involved.
Kent Police officers and an ambulance crew were also at the scene.
Willington Street was closed from the junction of Madginford Road while the vehicle was towed away.
Kent Highways workers also attended to repair the damaged lamppost.
The road was reopened by 2pm.